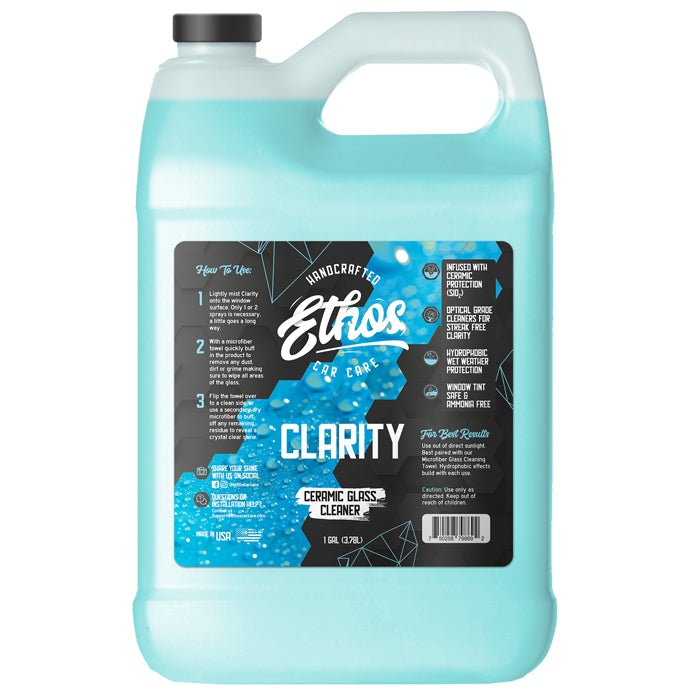 Clarity - 1 Gallon
Size:
1 - Gallon (128oz) BEST VALUE
In Stock - Ships Same Day
Streak Free Glass + Ceramic Protection
Infused with ceramic protection (Sio2)

Optical grade cleaners for streak free clarity

Hydrophobic wet weather protection

Window tint safe & ammonia free

Adds hydrophobic protection to your glass as you clean
Clarity - Ceramic Glass Cleaner is infused with advanced optical grade cleaners and ceramic (sio2) ingredients to clean and protect glass in one simple step. This unique formula leaves behind crystal clear glass and a layer of hydrophobic protection to provide enhanced visibility during wet weather driving and protection against water spots, snow, ice, sleet or other contaminants. Guaranteed to be streak free, window tint safe and ammonia free. Clarity works great on all automotive, home or office windows!
What is the best glass cleaner for car windows?
Ethos Clarity will be hands down the best auto window glass cleaner you have ever used. We recommend using our other products to get the full Ethos detailing experience. 
How To Use:
1. Lightly mist Clarity onto the window surface. Only 1 or 2 sprays is necessary, a little goes a long way.
2. With a microfiber towel quickly buff in the product to remove any dust, dirt or grime making sure to wipe all areas of the glass.
3. Flip the towel over to a clean side, or use a secondary dry microfiber to buff off any remaining residue to reveal a crystal clear shine.
For Best Results:
Use out of direct sunlight. Best paired with our Microfiber Glass Cleaning Towel. Hydrophobic effects build with each use.