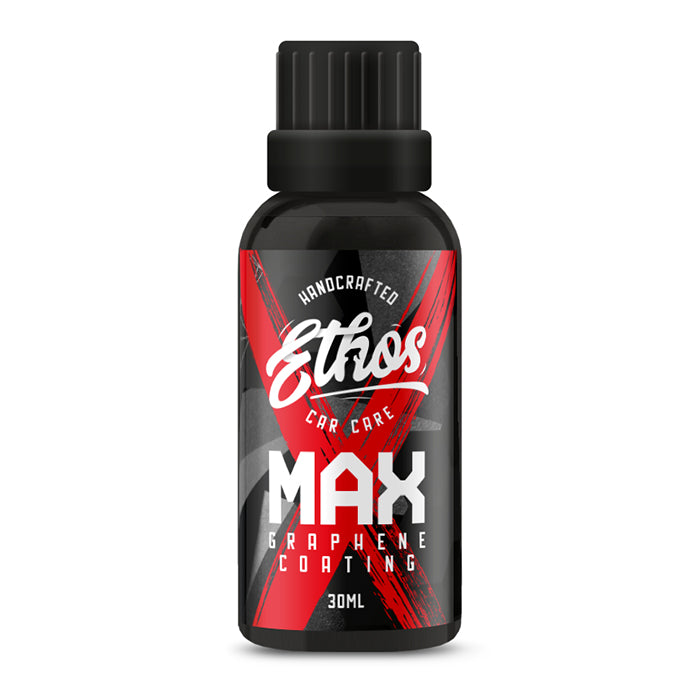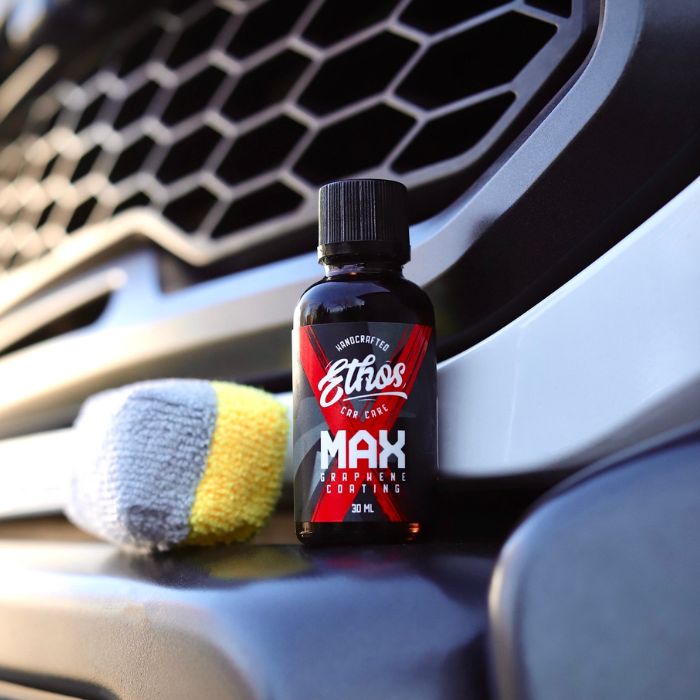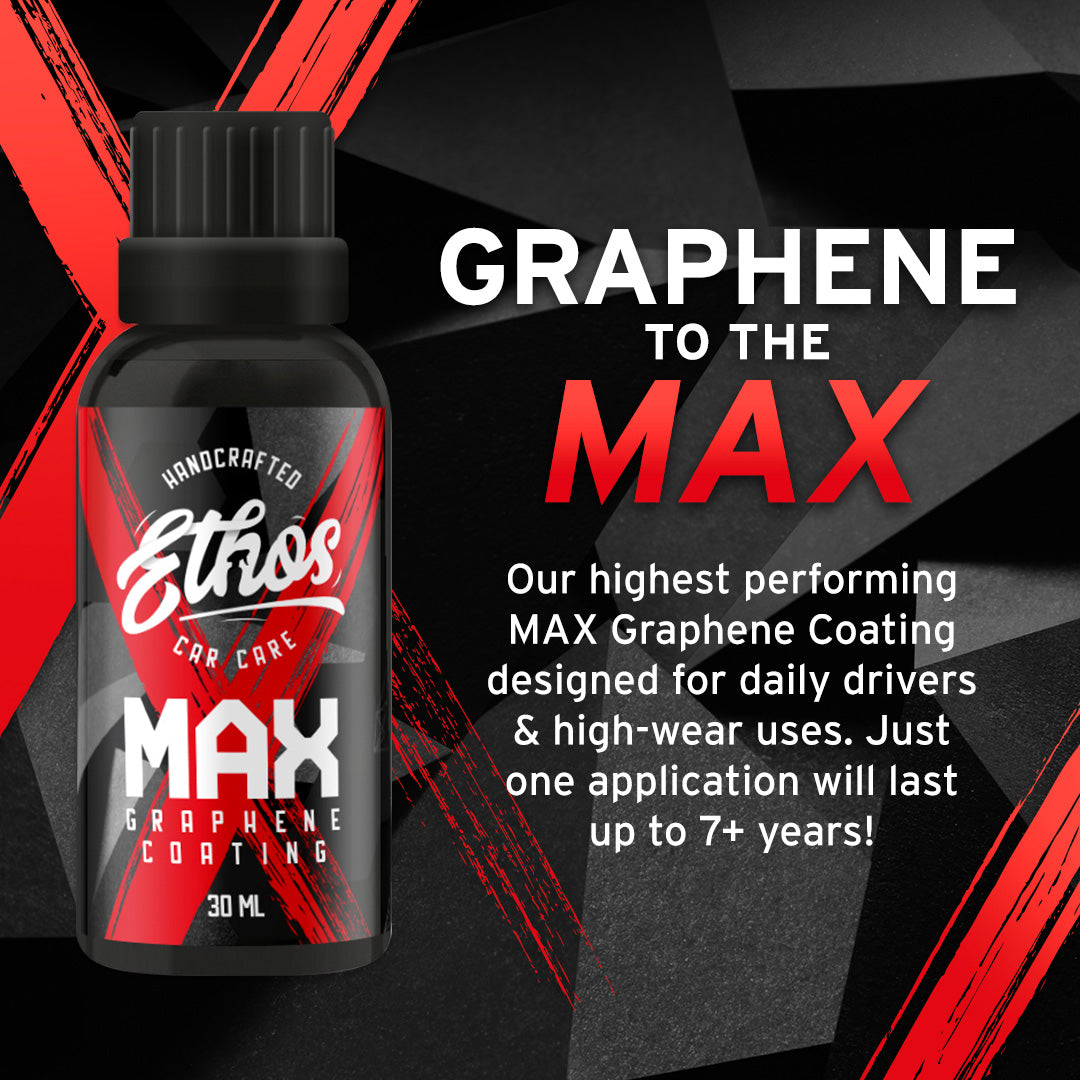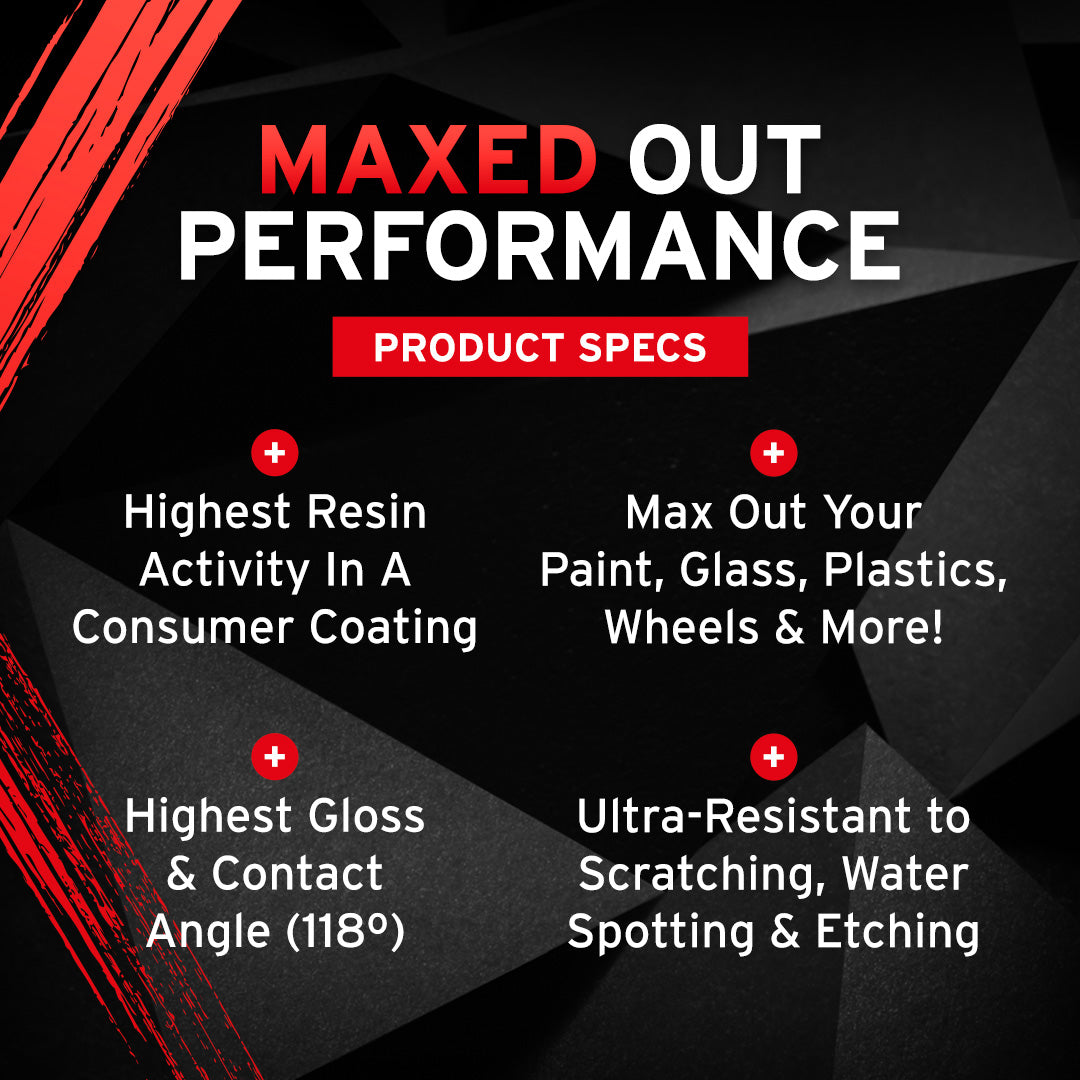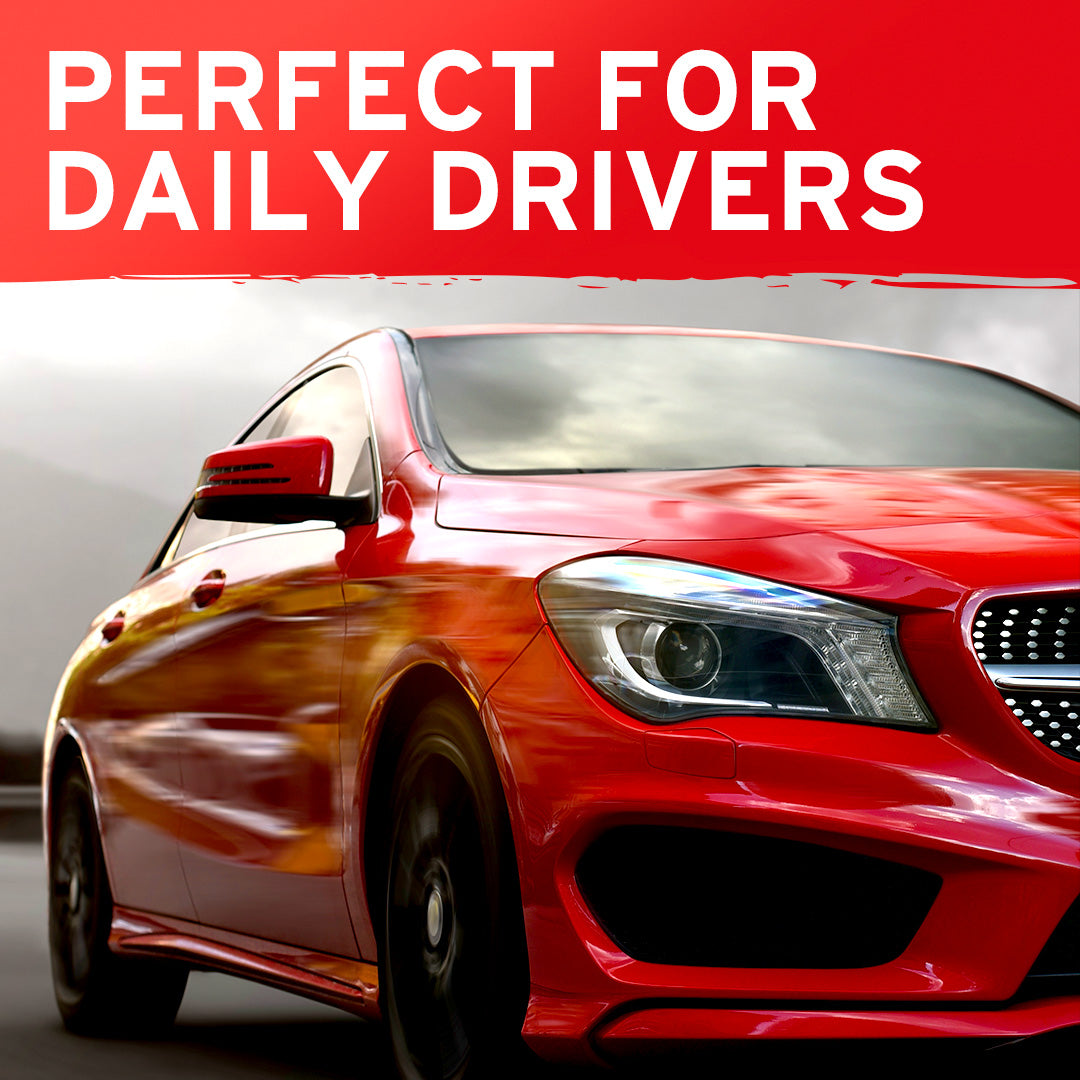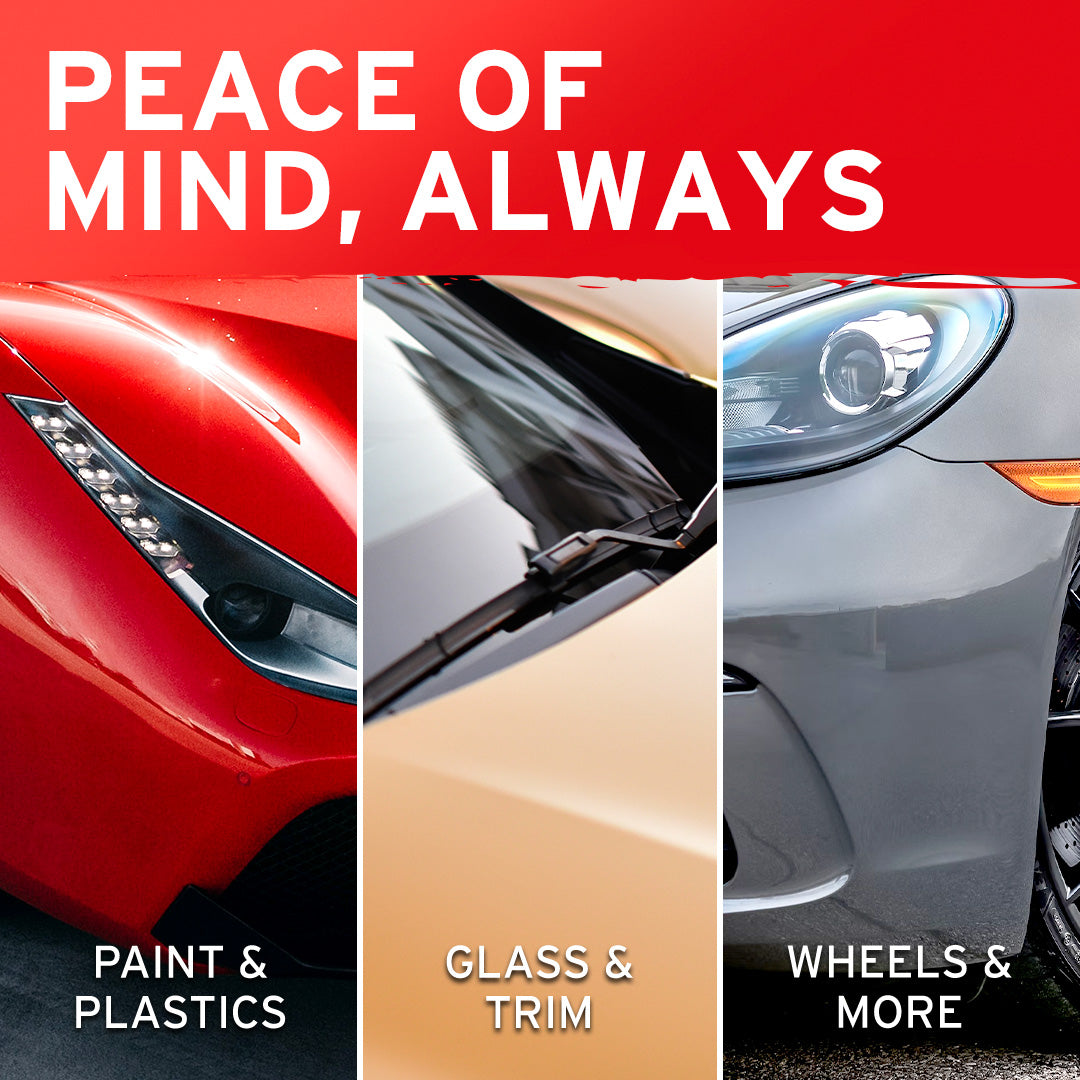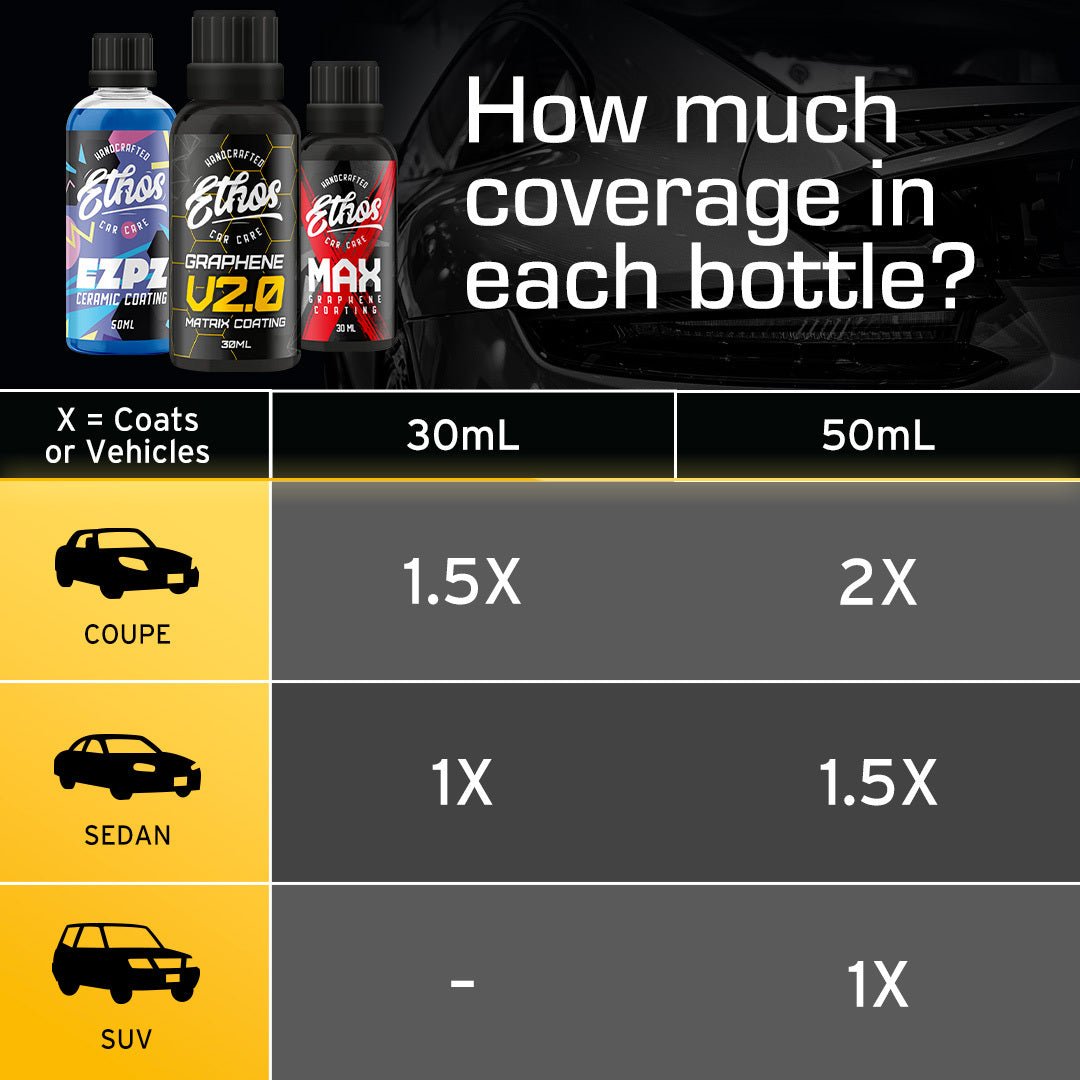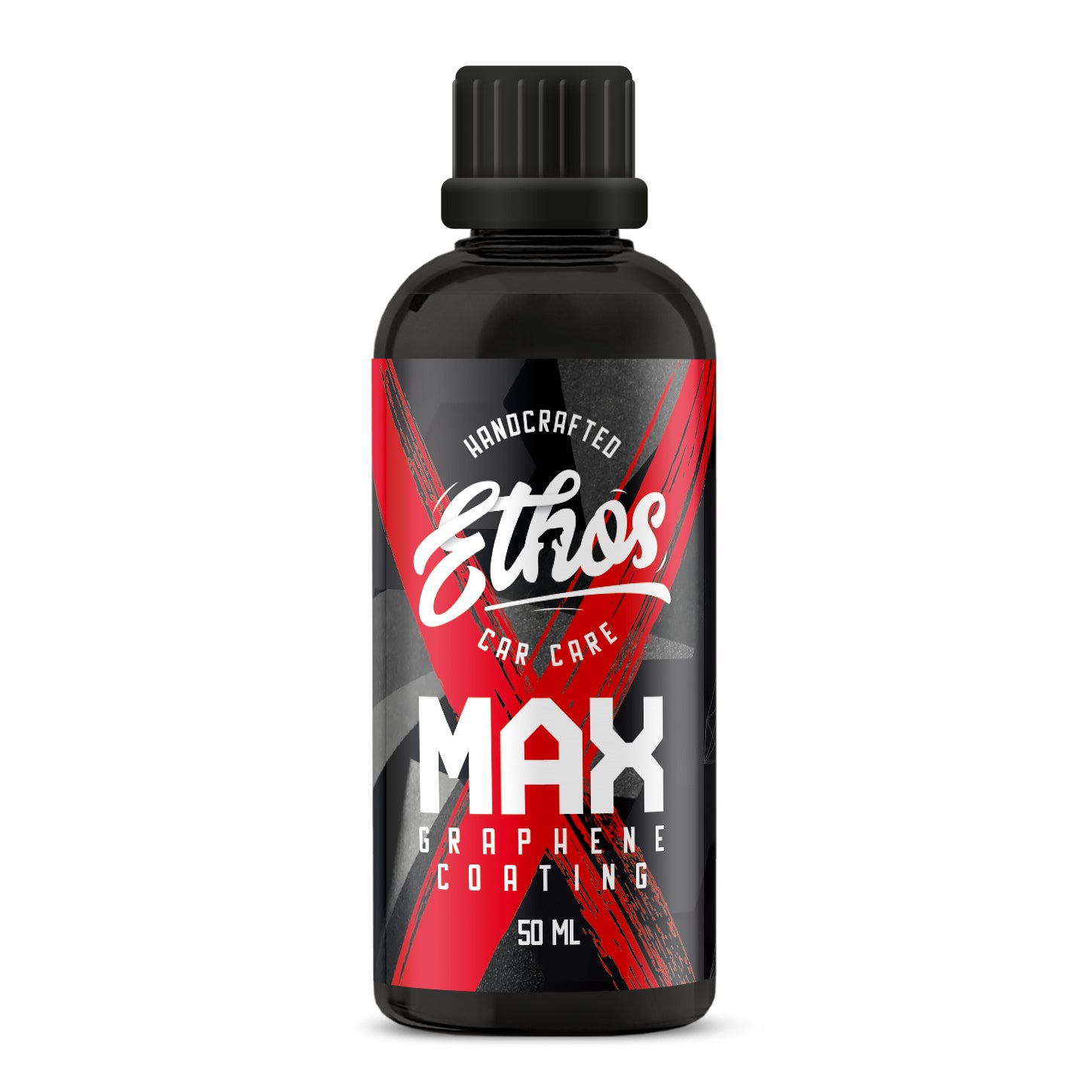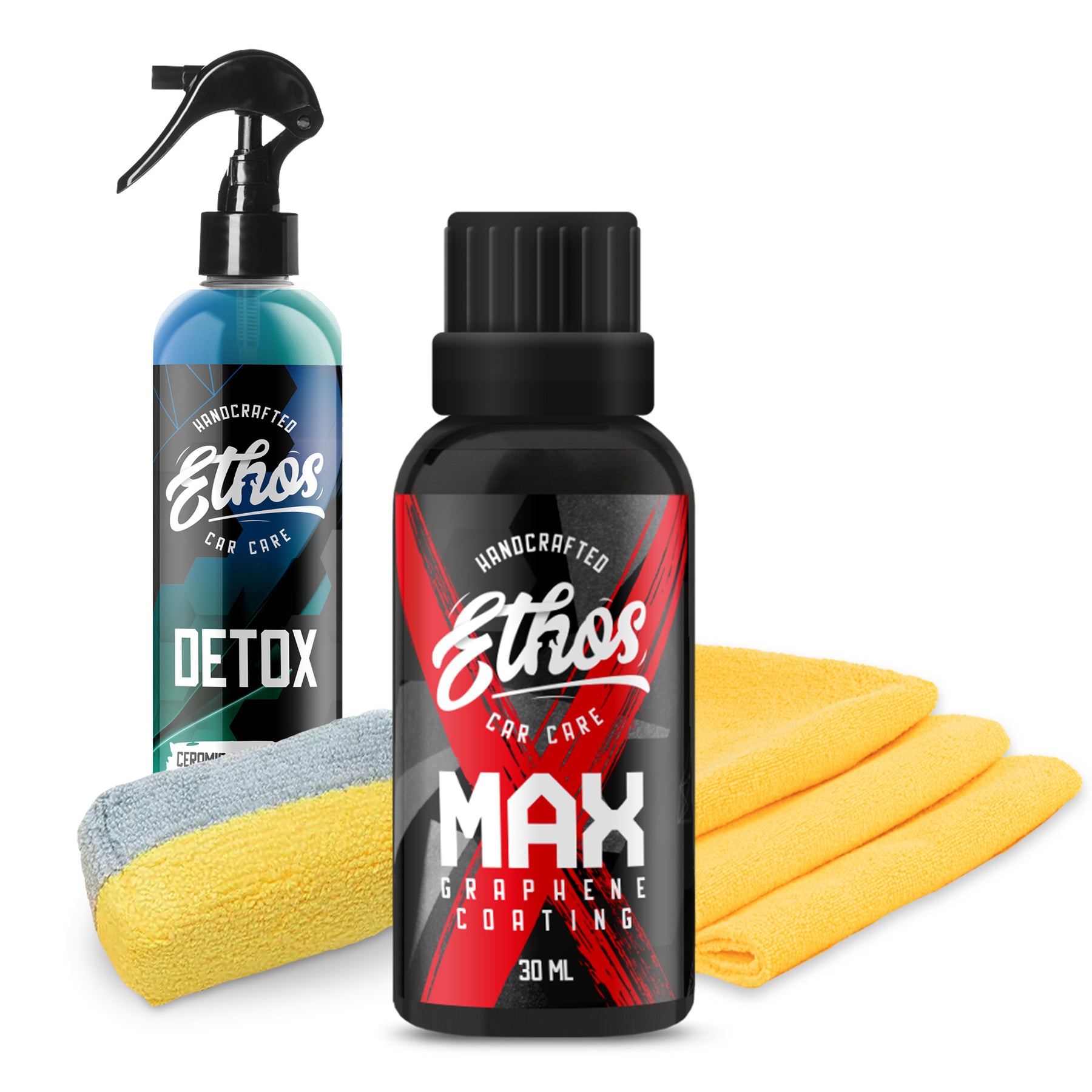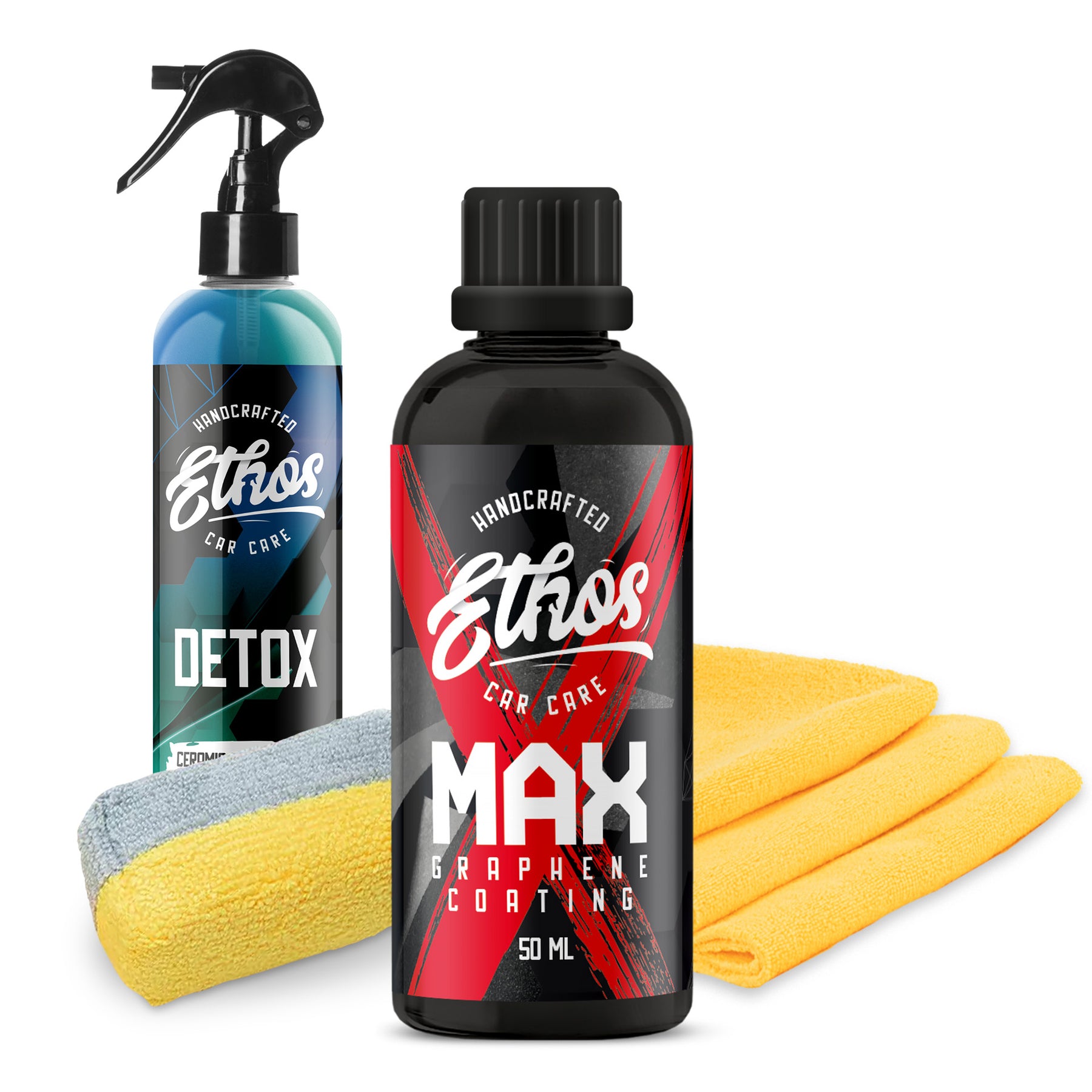 MAX Graphene Coating - Heavy Duty Protection
Toughest Coating on The Market
90% Active Coating Resin
Long Lasting Protection (7+ Years)
Water Contact Angle Over 118*
Chemical and Scratch Resistance
Selection:
1 - 30ML Bottle
Only 49 units left
Graphene Coating Protection On Steroids
Graphene MAX packs a knockout punch of ingredients making it an extremely high-performing coating, designed for those looking for maximum protection  for heavy-duty, industrial, or high-wear applications. MAX features our highest resin load level available to consumers, in addition to a cocktail of robust additives. This means you can expect industry-leading durability, gloss, and longevity in a DIY coating. With one application, you can expect up to 7+ years of durability when applied and maintained correctly.
In addition, MAX was specifically tailored for application on more demanding projects such as daily driven vehicles, wheel surfaces, or even industrial/commercial applications. It is NOT a replacement for our Graphene Matrix Coating V2.0 which offers the best combination of usability and durability available. MAX requires more experience and will be considerably more advanced to install.
Take your protection to the MAX with our ALL NEW, industry-leading Graphene Coating.
Warning: MAX Graphene Coating is intended for advanced applications only. It is a high-strength, ultra-thick coating for maximum durability.
Features:
Highest Resin Activity Available to the Public (225% more than Graphene V2.0)

Longer Lasting Protection (7+ Years)

Designed for daily drivers & higher wear applications

Additional additives for increased performance

High resistance to scratching during the wash process

High resistance to water spots and etching 

Extreme gloss and contact angle for a DIY coating (118*)

Enhances paint, glass, plastics, wheels, and more
How to Prep for Application
Clean any loose dust, dirt, and contaminants from the surface.

Clay bar any rough embedded contaminants from the surface to ensure no impurities interfere with the properties of the coating.

Polish/Compound to remove any paint defects in the form of scratches, swirl marks, and oxidation. Graphene MAX is a semi-permanent coating so once applied any defects will remain sealed underneath.

Deep clean any polish oils or residues from the surface that could inhibit the bonding process using Ethos Detox.

Remove any residual water that can be hiding underneath panel gaps, headlights, or taillights which could drip out and affect the coatings curing process.
Installation Notes
Temperature and humidity can play a big factor in "flash" time (Time between application and when the coating is ready to be wiped off). We recommend applying in temperatures between 65-75*. In higher temperatures flash time will be expedited so first test using a small section to determine workability before moving onto the rest of the vehicle.
Graphene MAX can be applied to any painted, plastic, or glass surface (including windshield). 
How To Apply
Make sure the surface has been completely cleaned and decontaminated with Ethos Detox. The cleaner the surface, the better the bond!
Shake bottle well.

Apply a few drops of Graphene Matrix onto your applicator until evenly covered.

Starting with horizontal/top surfaces first, applying in straight lines slightly overlapping from one line to the next. Work in small areas approximately 2'x2' or the size of a door or half a hood at a time. Temperature and humidity will determine coverage areas allowable between application and removal.

Applicators should glide smoothly on the surface while laying down an even layer of coating. If the applicator starts to drag or the application becomes inconsistent, apply additional drops to the applicator.

Immediately after application, you will notice a "Rainbow Effect" (More prevalent on dark colors) while the applied coating bonds to the surface. Roughly 30 seconds - 1 min after application, the "Rainbowing" will start to turn into a haze/fog, this means the coating is ready for removal. (Temperature and humidity will expedite the flash time. Test a small area first before continuing onto the rest of the vehicle) 

Using premium microfiber towels (Preferably our Edgeless Towels), thoroughly wipe down the section to remove the Graphene Coating residue. Your first wipe should remove about 80% of the residue, and your second wipe should easily remove the remainder. Use small, circular motions and little to no pressure during removal.

IMPORTANT: Be sure to check adjacent panels to make sure you haven't "pushed" excess coating to other areas. (We recommend using a flashlight or smartphone light for inspection to make sure every bit of residue is gone. If you fail to remove all of the residues during the flash time, it will become a dark spot once it cures and can require polishing or compounding to remove) So be thorough and continue to check your work before moving on to the next step.

Repeat these steps as you move along the rest of your vehicle. Coating the paint, plastics, trim, and glass surfaces in the same manner. When layering one-hour minimum is required between coats.

Let the coating fully dry/cure for at least 48 hours before allowing it to get wet. The longer it stays dry the better, as it will continue to cure for about 5 days (you CAN drive the car during this time). 
Wash and maintain the coating as outlined in our maintenance protocols. ethoscarcare.com/coating-maintenance
At first glance it may appear that MAX is simply a better version of Graphene Matrix V2.0, but that is simply not the case.
Graphene MAX has durability and longevity as its ultimate goal being designed as an application for harsher conditions.
V2.0 is the perfect combination of performance and workability. Graphene MAX contains a higher activity of industrial grade resins that may make it both stickier and harder to apply.
We recommend using MAX if you have previous coating experience or are looking for a coating that sacrifices on application but maxes out performance.
Most ceramic coatings on the market are comprised of Sio2 (Silicone Dioxide) which is commonly referred to as Silica, also known as sand or glass. Graphene was discovered in 2004 and won a nobel prize in 2010 due to its incredible attributes which have shown to be 100X stronger than steel while remaining flexible and not breaking.

Graphene Matrix utilizes this innovative technology to make a formula that takes ceramic coatings to the next level. Making them easier to apply while providing additional benefits and results.
Graphene Coatings are an evolution on the tried and true Ceramic Coating and are applied in a very similar manner while reducing some of the risks and potential downsides.
Ethos Graphene Coatings provide a protective coating to your vehicle shielding it from UV rays, oxidation and other environmental contaminants.
Due to its incredibly strong Graphene structure, Graphene Coatings have been show to provide a very durable protective layer for any car, truck or boat.
Graphene MAX is an ultra durable, high performing graphene coating that can be applied to a wide range of applications.
Because of its extremely high functionality, we do recommend following directions very carefully during installation.
To read our full break down of installation on Graphene MAX please check out our How-To: How To Install Graphene MAX