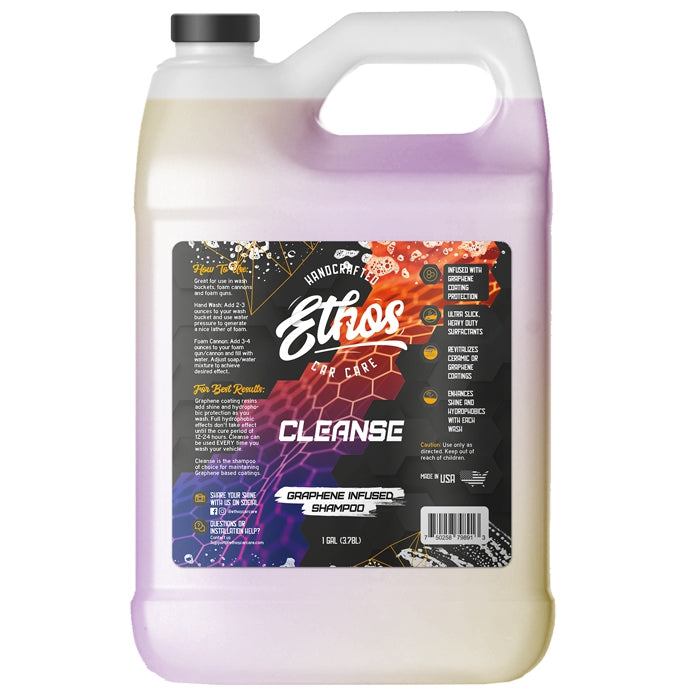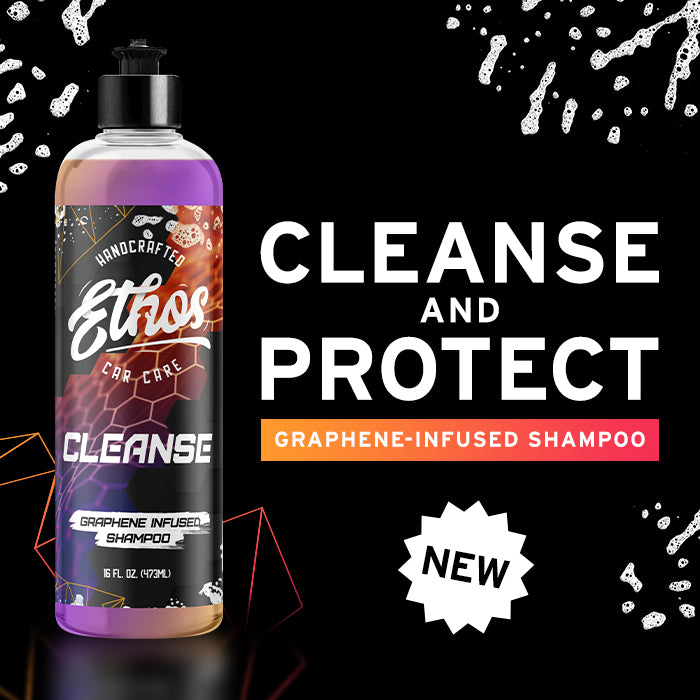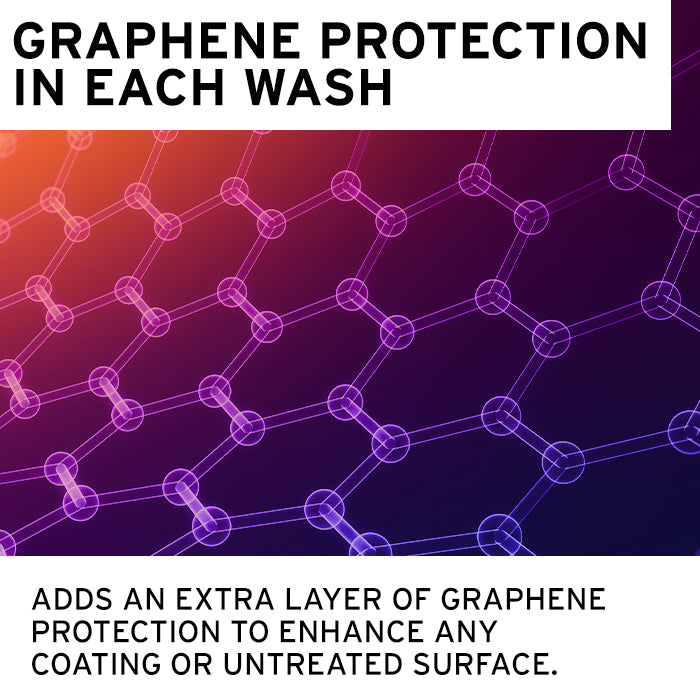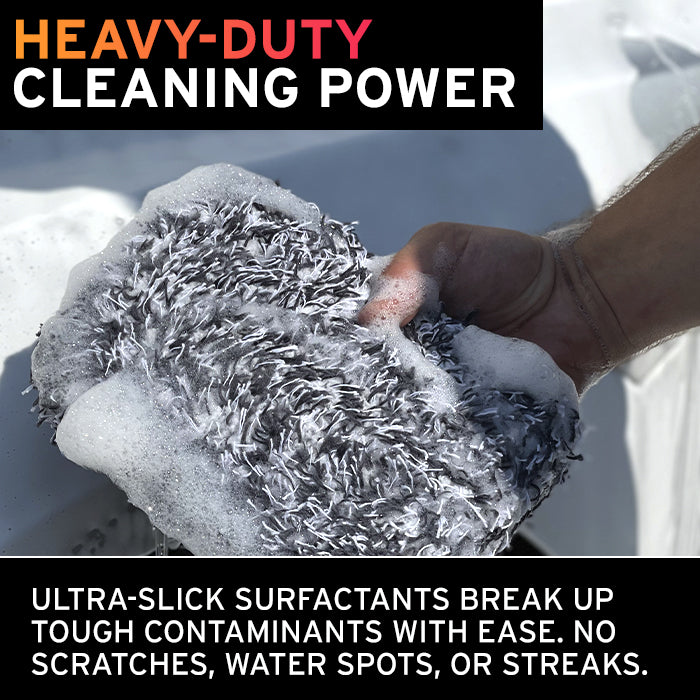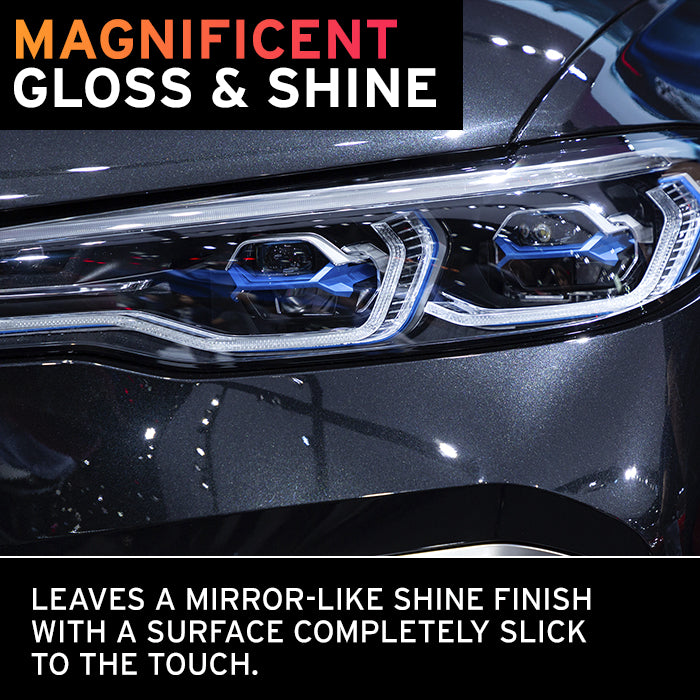 Cleanse - 1 Gallon
Ceramic Infused Formula
Gently Cleans and Rejuvenates
Safe on Any Ceramic Coating
High Foaming and Ultra-Slick
Graphene-infused car maintenance shampoo that protects while it cleans! Ultra-slick, high sudsing, and deep cleaning formula rejuvenates graphene coatings and adds protection to untreated finishes. Works great in car wash buckets, foam guns or foam cannons.
Selection:
1 - Gallon (Best Value)
In Stock - Ships Same Day
Graphene Infused Coating Shampoo
Infused with graphene coating protection

Ultra slick, heavy duty surfactants

Revitalizes ceramic or graphene coatings

Enhances shine and hydrophobic effect with each wash
Cleanse - Graphene Shampoo is a highly concentrated graphene-infused car shampoo that powers through contaminants with ease. Cleanse features the same active coating resins found in our graphene coating line providing an extra layer of protection as you wash your vehicle. This protection enhances and preserves any ceramic or graphene based coating and provides protection to untreated surfaces.
Designed for coating maintenance, this shampoo provides heavy duty cleaning power and ultra slick surfactants that won't leave scratches, water spots or streaks behind. Cleanse is our highest activity shampoo to date and 100% guaranteed to enhance your coating wash process.
How To Use: 
Great for use in wash buckets, foam cannons and foam guns.
Hand Wash:
-Add 2-3 ounces to your wash bucket and use water pressure to generate a nice lather of foam. 
Foam Cannon:
-Add 3-4 ounces to your foam gun/cannon and fill with water. Adjust soap/water mixture to achieve desired effect. 
For Best Results
Graphene coating resins add shine and hydrophobic protection as you wash. Full hydrophobic effects don't take effect until the cure period of 12-24 hours. Cleanse can be used EVERY time you wash your vehicle.
Cleanse is the shampoo of choice for maintaining Graphene based coatings.
Graphene shampoo for cars is an innovative product that combines the cleansing properties of a car shampoo with the protective benefits of graphene. Graphene is known for its excellent hydrophobic properties, making it an ideal material to use in car care products. Here's how to use graphene shampoo for cars:
Gather your materials: You will need graphene car shampoo, a bucket, a hose or pressure washer, a microfiber wash mitt or sponge, and a microfiber drying towel.
Prepare the shampoo solution: Fill the bucket with water, and follow the manufacturer's instructions for the appropriate dilution ratio of graphene shampoo to water. Typically, you'll need to add a few ounces of shampoo to a gallon of water, but this can vary depending on the specific product.
Rinse the car: Before you begin washing, use a hose or pressure washer to thoroughly rinse the car. This will help remove loose dirt, dust, and debris, reducing the risk of scratching the paint during the washing process.
Wash the car: Dip the microfiber wash mitt or sponge into the bucket of graphene shampoo solution, and begin washing the car. Start from the top and work your way down, using gentle, straight-line motions to clean each section. Avoid using circular motions, as these can create swirl marks.
Rinse the mitt or sponge frequently: As you wash, periodically rinse the wash mitt or sponge in a separate bucket of clean water to remove dirt and debris. This helps prevent scratches and swirl marks on the paint.
Rinse the car: Once you've washed the entire car, use the hose or pressure washer to rinse it thoroughly. Make sure to remove all the graphene shampoo, as any residue can leave streaks or spots on the paint.
Dry the car: Use a clean, microfiber drying towel to gently dry the car, starting from the top and working your way down. This will help prevent water spots and streaks from forming on the paint.
Inspect the car: Once the car is dry, inspect the paint to ensure that the graphene shampoo has been evenly applied and that there are no remaining soap residues, streaks, or water spots.
Optional step: If desired, follow up with a graphene spray sealant, wax, or coating to further enhance the protective properties of the graphene and prolong its effects on your car's paint.
Remember to always follow the specific instructions provided by the manufacturer of the graphene car shampoo you're using. By properly using graphene shampoo, you can help protect your car's paint, enhance its shine, and make it easier to maintain in the long run.
Ethos Cleanse Graphene Shampoo is an excellent choice for a graphene-coated car due to its specific formulation and benefits. Here are some reasons why it stands out as the best shampoo for a graphene-coated car:
pH-neutral formula: Ethos Cleanse Graphene Shampoo has a pH-neutral formula, which means it is gentle on your car's paint and the protective graphene coating. This helps maintain the coating's integrity, ensuring that it continues to provide optimum protection.
Enhanced lubrication: The shampoo offers enhanced lubrication, allowing the wash mitt or sponge to glide smoothly across the surface, reducing the risk of scratches or swirl marks. This is especially important for maintaining the appearance of a graphene-coated car.
Graphene-infused: Ethos Cleanse Graphene Shampoo is infused with graphene, which means it is specifically designed to work with graphene coatings. This synergy ensures that the shampoo cleans and protects the surface without causing any harm to the existing graphene layer.
High-foaming action: The high-foaming action of the shampoo helps lift and encapsulate dirt, debris, and grime, making it easier to remove these contaminants without causing damage to the paint or graphene coating.
Easy rinsing: Ethos Cleanse Graphene Shampoo rinses off easily, leaving no residue behind. This ensures a streak-free finish, which is essential for maintaining the appearance and performance of the graphene coating.
Versatility: Although the shampoo is designed specifically for graphene-coated cars, it is also compatible with other protective coatings, such as ceramic and wax. This versatility makes it an excellent choice for car owners who have different types of coatings on their vehicles.
By offering a combination of gentle cleaning, graphene compatibility, and additional protective properties, Ethos Cleanse Graphene Shampoo stands out as the best shampoo for a graphene-coated car. Using this shampoo regularly will help maintain the coating's longevity and effectiveness, ensuring your car's paint remains in excellent condition.
Graphene spray for cars can be worth the investment, depending on your specific needs and expectations. Graphene spray coatings provide a range of benefits that can enhance the appearance and protection of your car's paint. Here are some reasons why graphene spray for cars might be worth considering:
Durability: Graphene coatings are known for their durability, providing long-lasting protection compared to traditional waxes or sealants. A graphene spray can last anywhere from several months to a few years, depending on the quality of the product and proper application.
Hydrophobic properties: Graphene coatings are highly hydrophobic, which means they repel water effectively. This helps keep your car cleaner for longer periods and makes it easier to wash, as dirt and grime have a harder time sticking to the surface.
Enhanced gloss and depth: Graphene spray coatings can enhance the gloss and depth of your car's paint, giving it a more vibrant and eye-catching appearance.
UV and chemical protection: Graphene coatings offer protection against UV rays, which can cause fading and oxidation of your car's paint over time. Additionally, they can also provide some resistance to chemicals, such as bird droppings and acid rain, that can damage the paint.
Scratch and swirl resistance: While graphene coatings do not make your car's paint invulnerable to scratches and swirl marks, they can provide a certain level of resistance, reducing the risk of minor damage caused by washing, drying, or light contact.
However, it's important to note that not all graphene spray products are created equal. The performance and longevity of the coating will depend on the quality of the product, proper application, and regular maintenance. Research and select a reputable brand, follow the manufacturer's application instructions, and use appropriate maintenance products to get the most out of your investment in a graphene spray for your car.
Customer Reviews
100
reviewers would recommend this product
Write a Review
Ask a Question
Filter Reviews:
foam cannon
shampoo
shine
products
scent
Ethos
Graphene infusion
bases
lubricant
foam cannon car shampoo