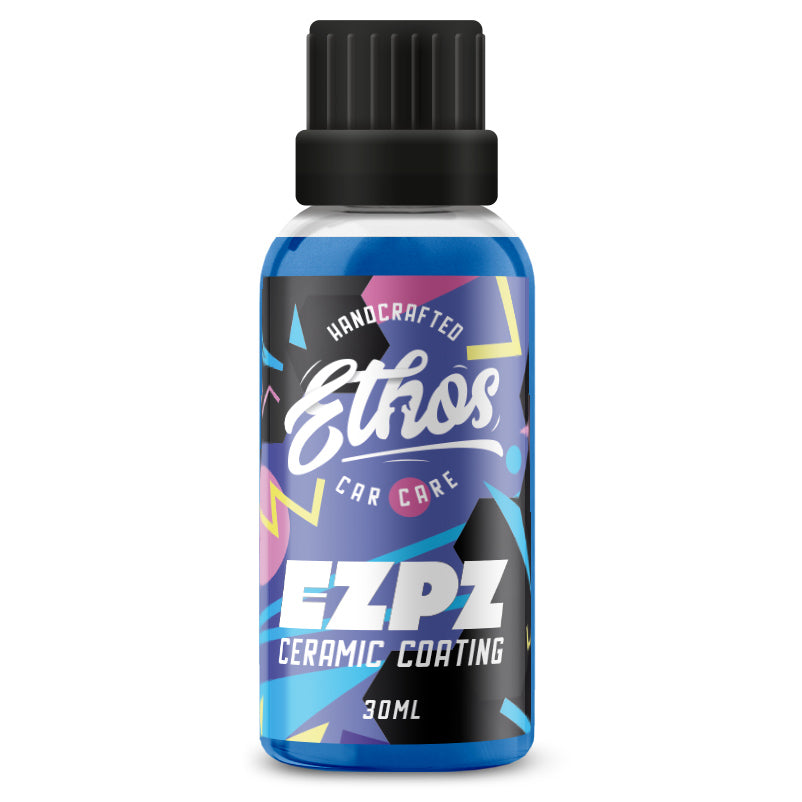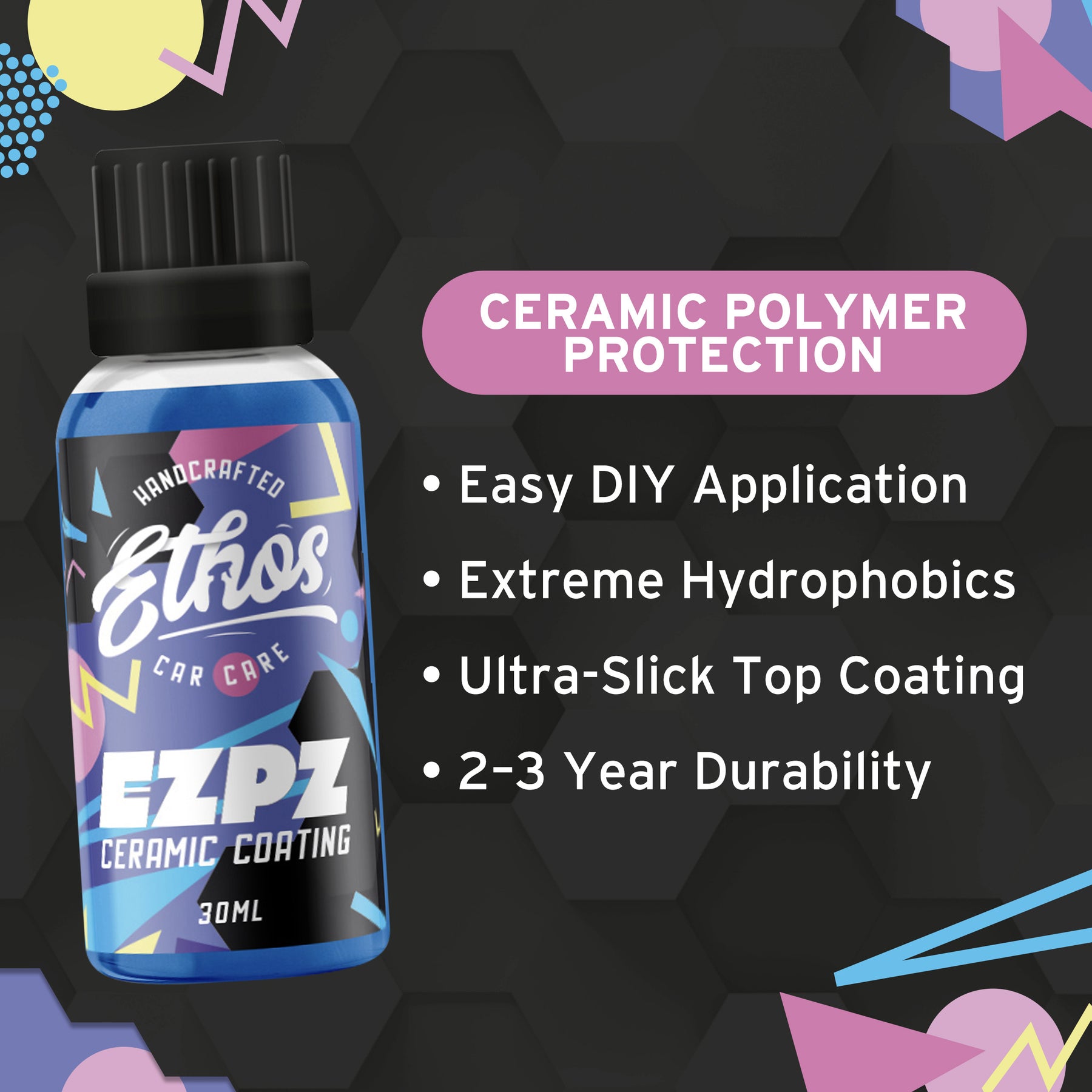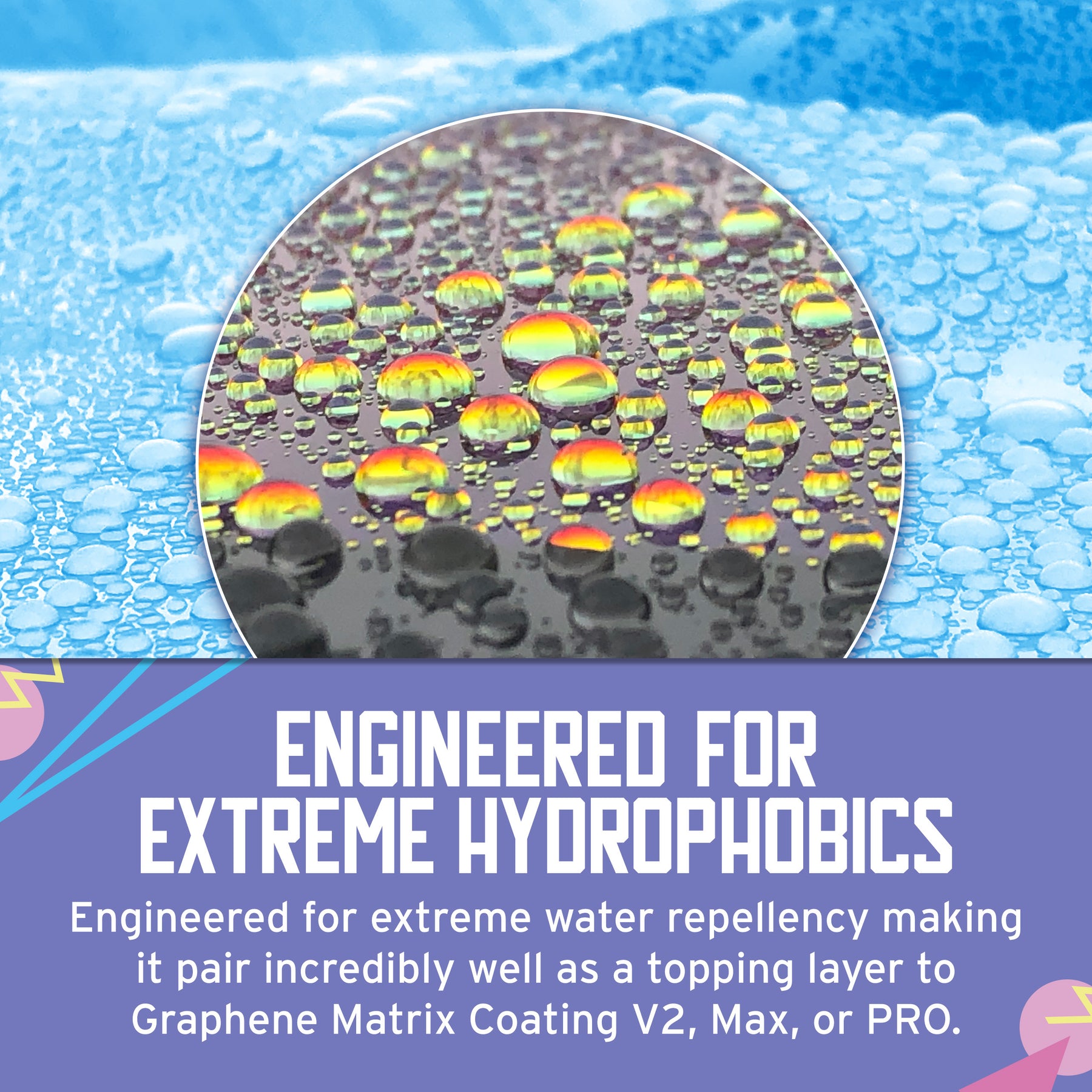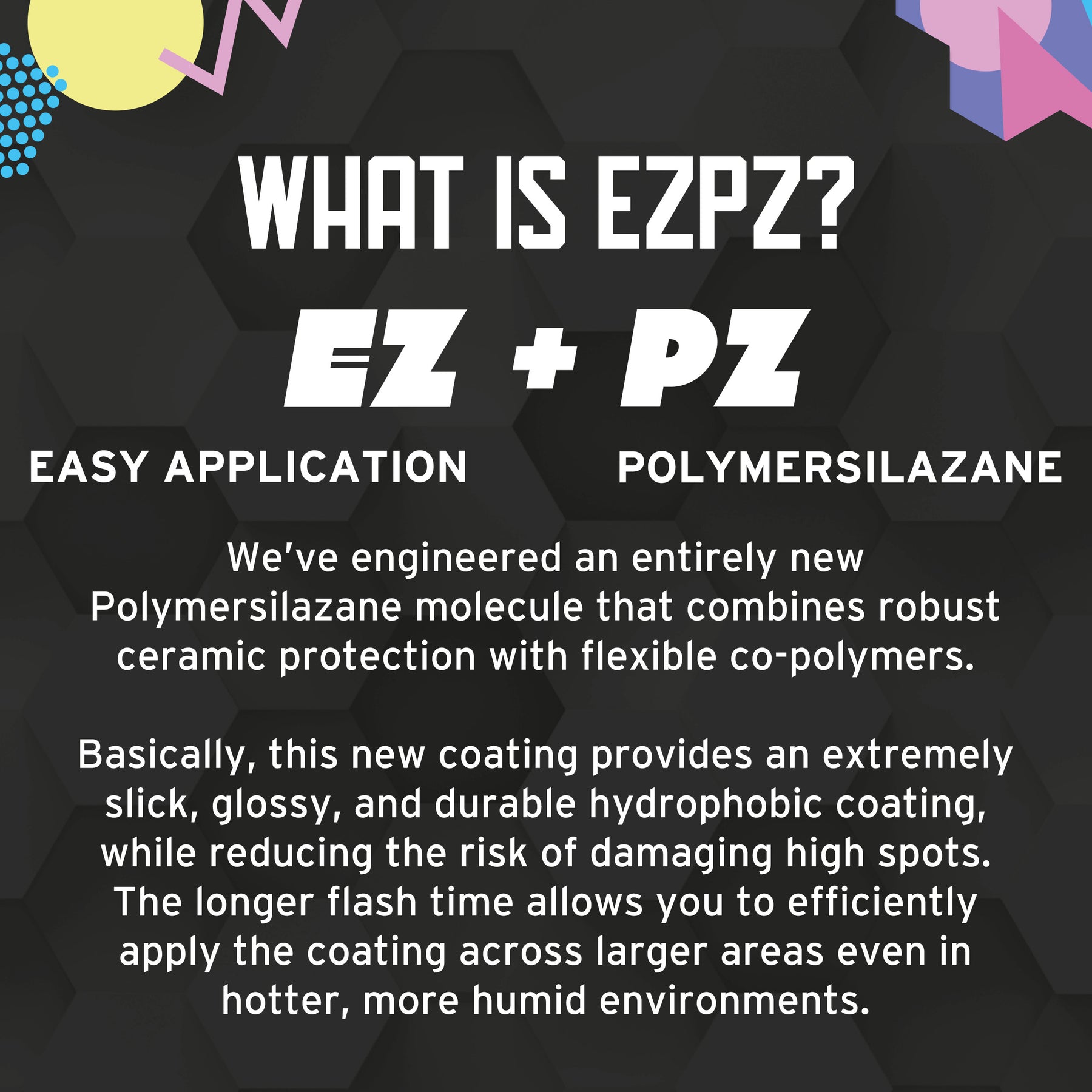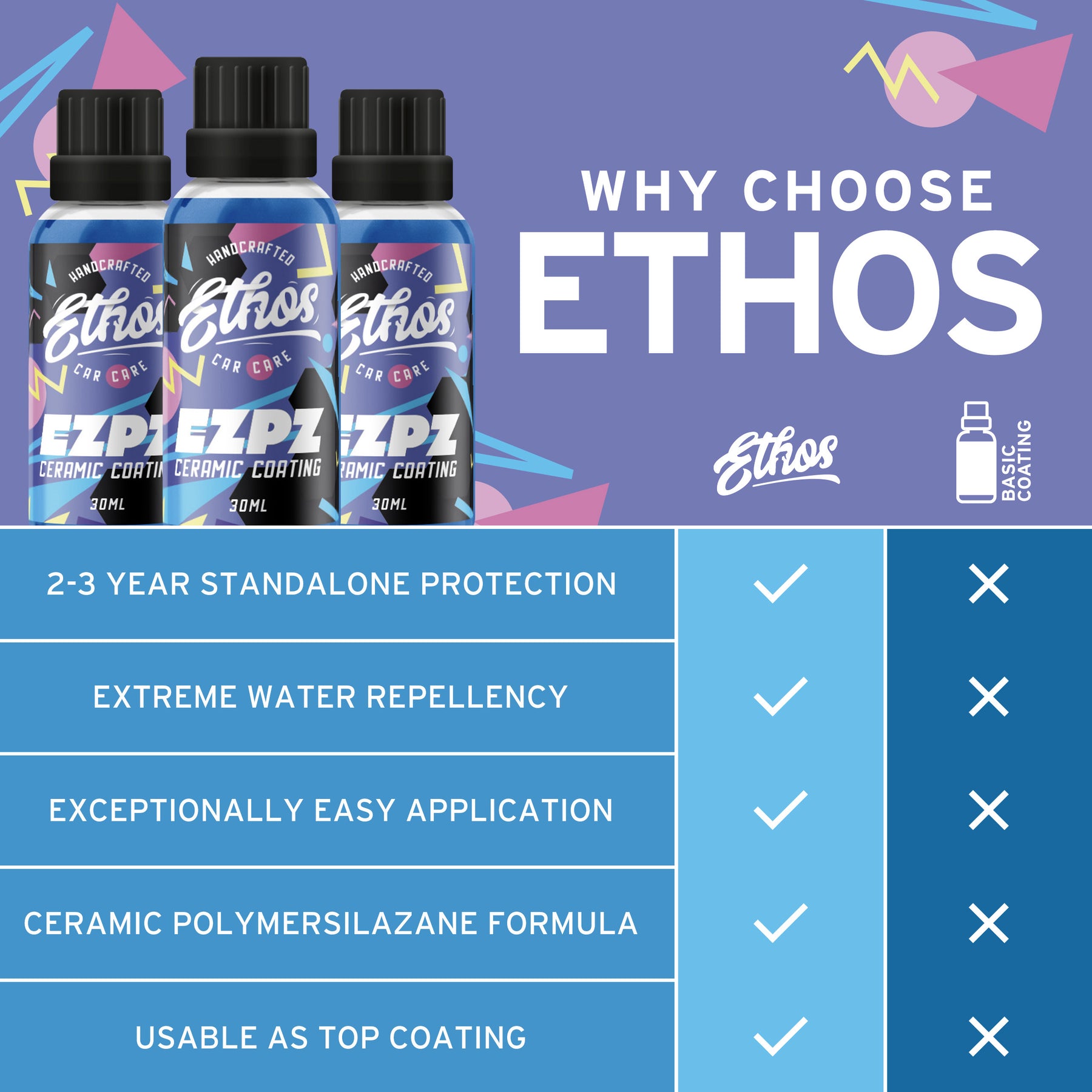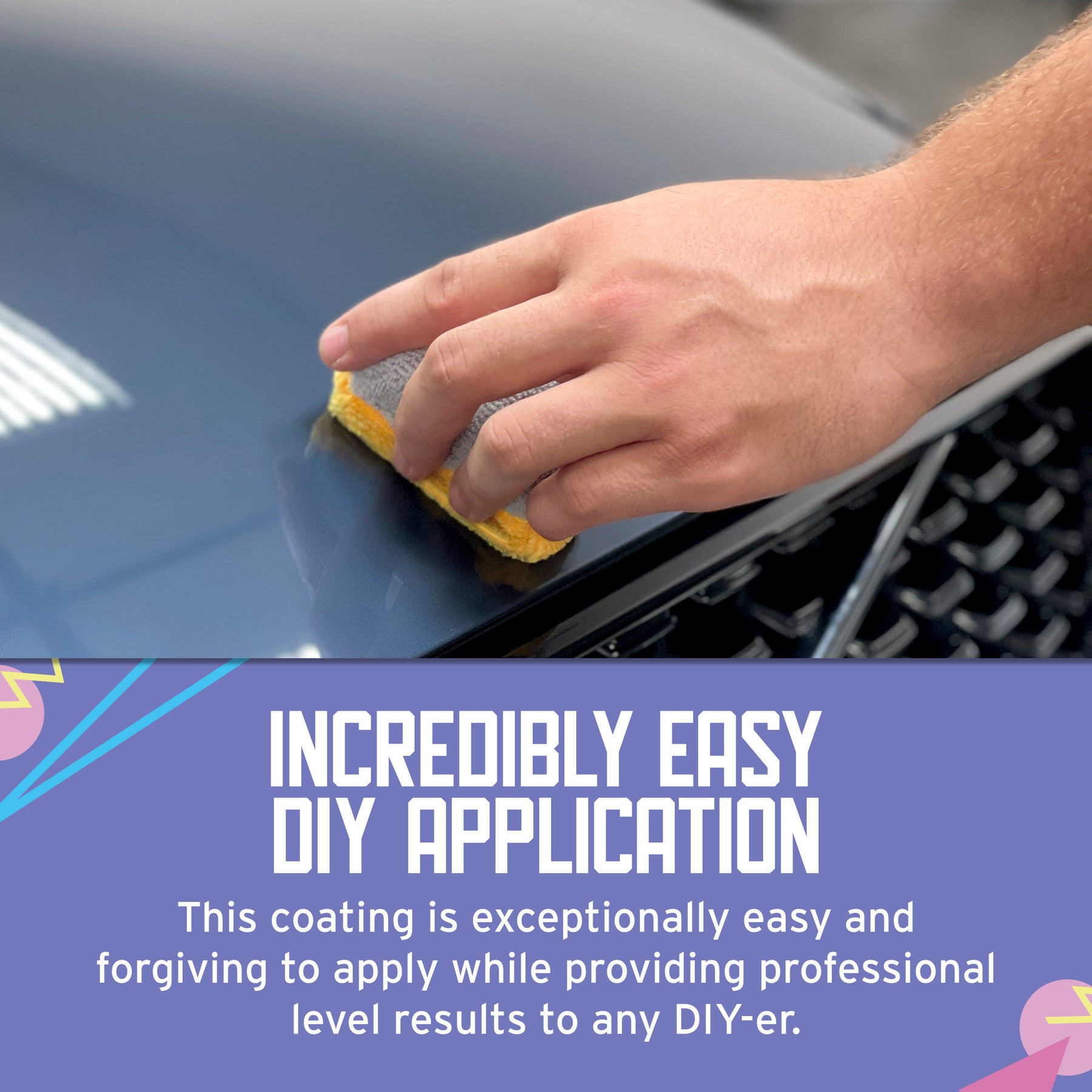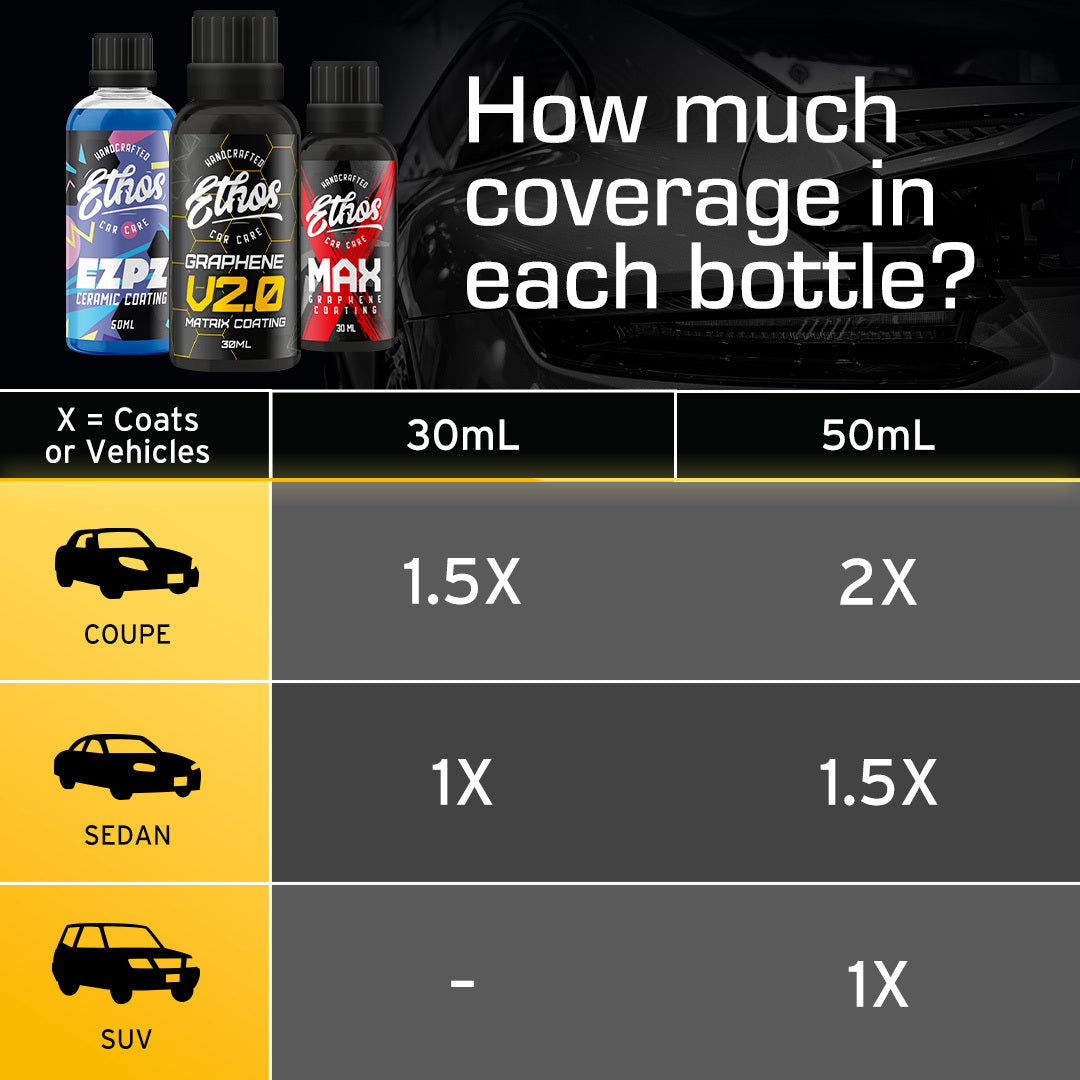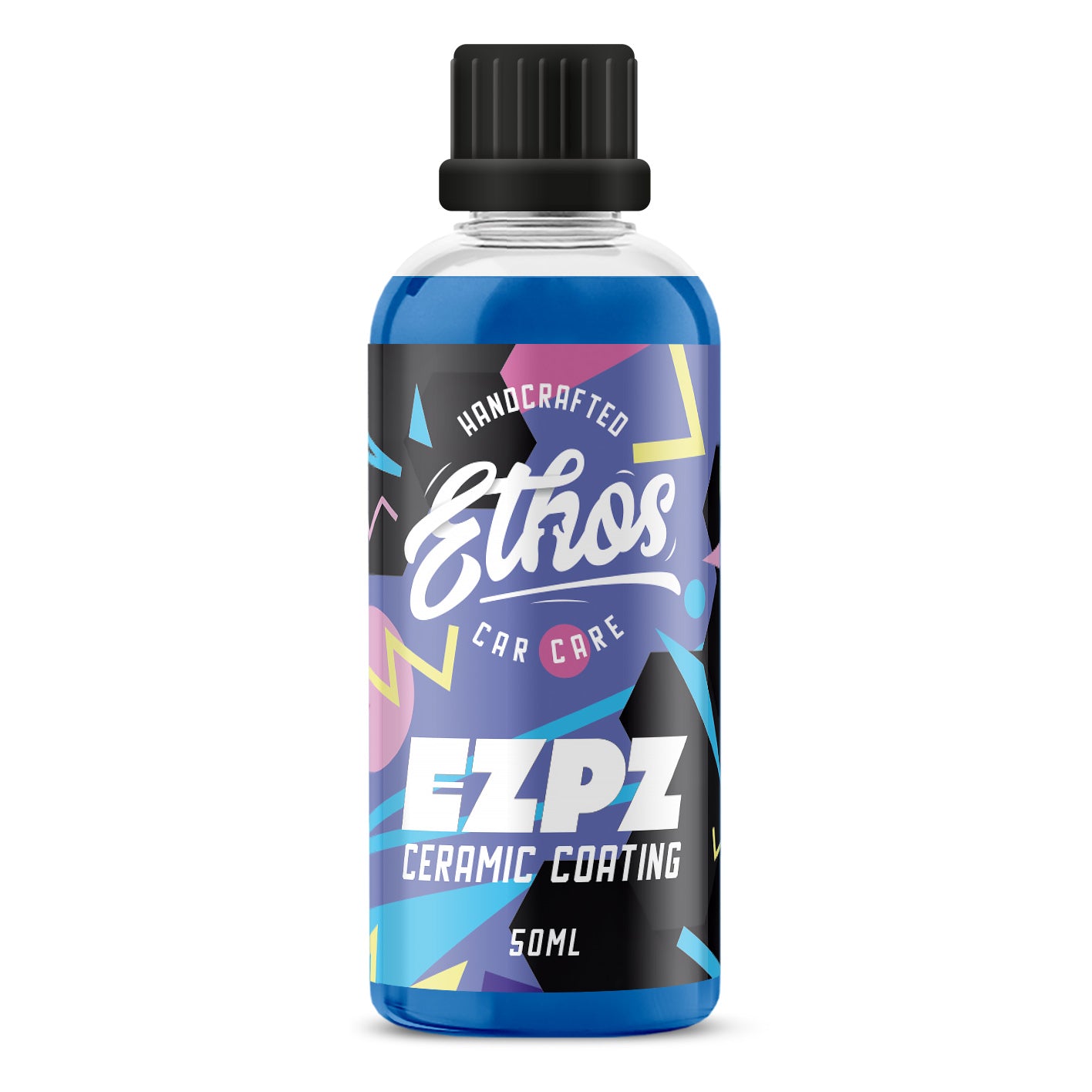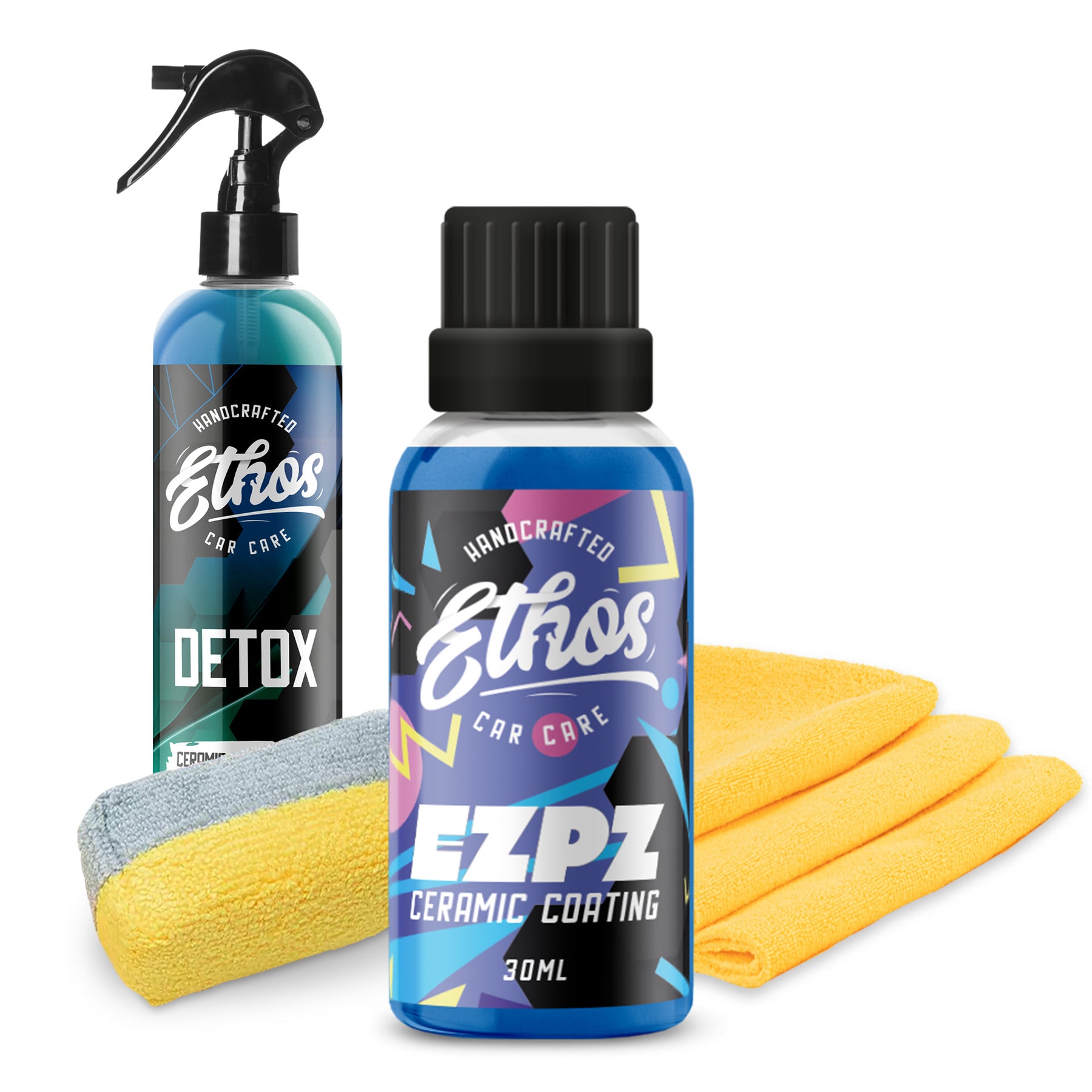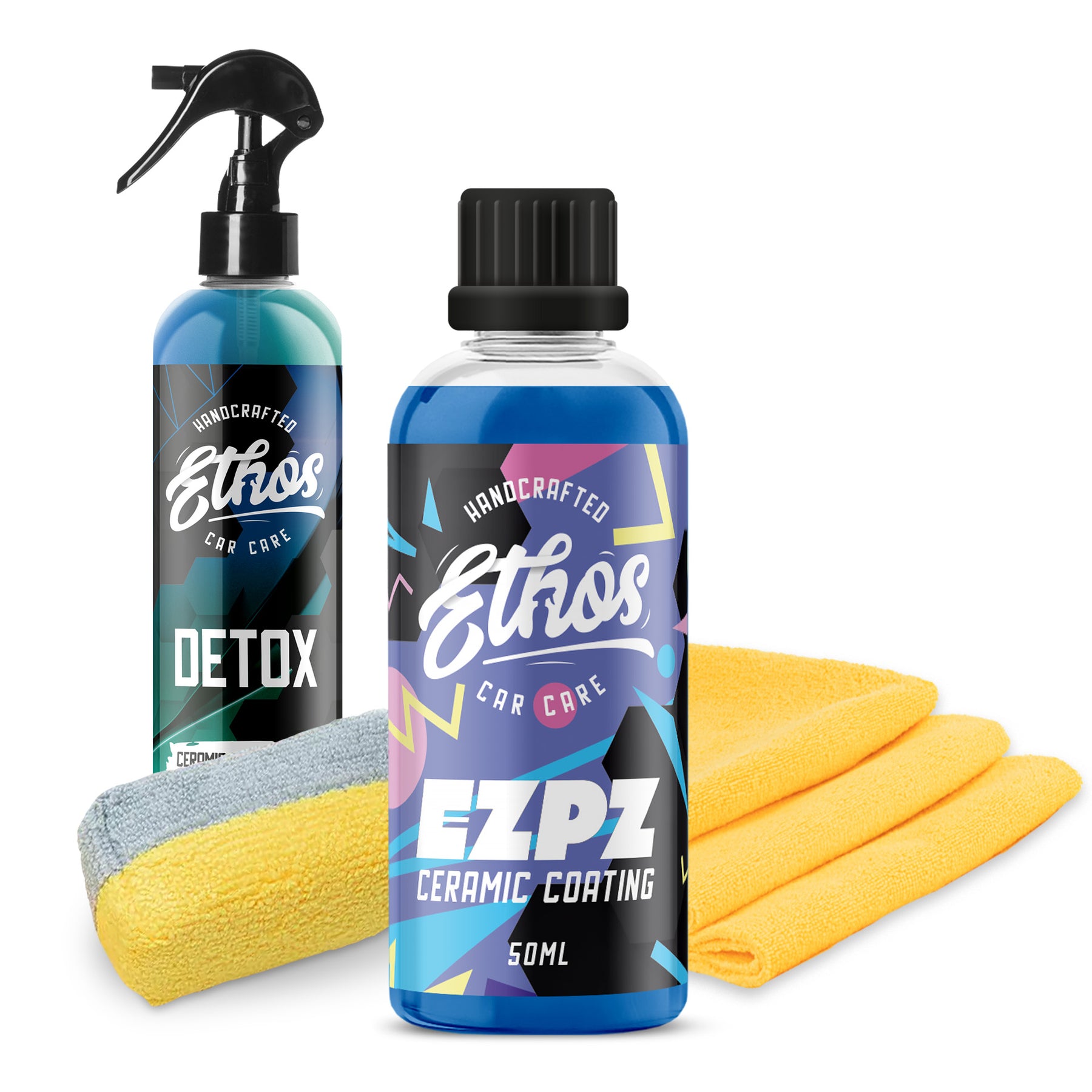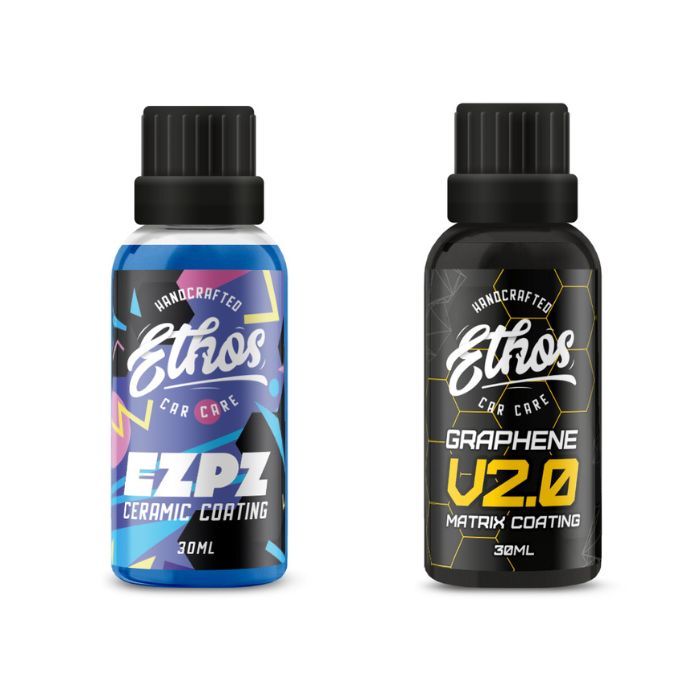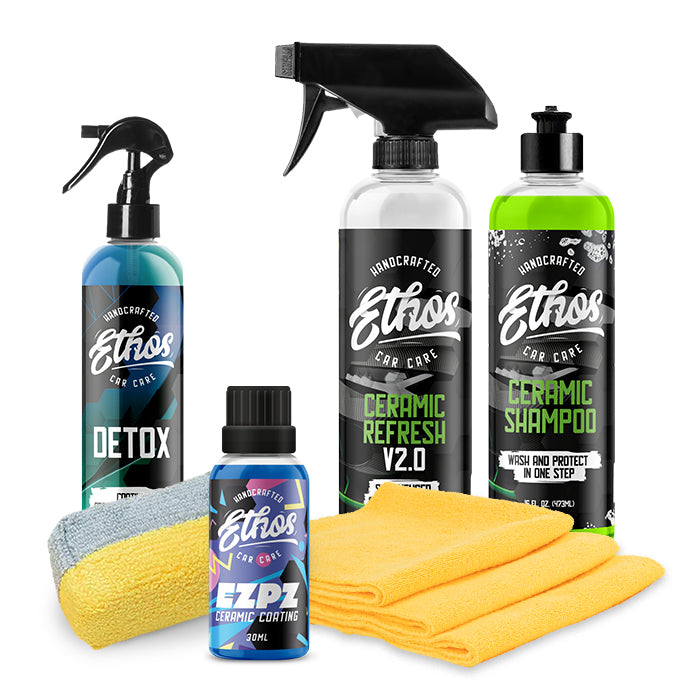 EZPZ - Ceramic Coating For Cars
Easy DIY application
9H Hardness
Ultra Slick Top Coating
Durable ceramic Polymersilazane formula
Selection:
1 - 30ml Bottle
Only 20 units left
Ceramic Coatings Aren't Dead; they've Evolved
Incredibly Easy DIY application
Engineered for extreme hydrophobics
Ultra-Slick Top Coating
Durable ceramic Polymersilazane formula
What is the best ceramic coating for cars? The simple answer is the one that you feel comfortable enough actually to apply. No doubt applying a ceramic coating provides long-lasting protection to your vehicle, but it isn't also without risks. If you've never applied a ceramic coating before, this can be an overwhelming or even scary process. You may have heard things such as, "If installed improperly, they need to be sanded off", Or "Ceramic coatings can only be installed by professionals.".
EZPZ - Ceramic Polymer Coating breaks the stereotype that ceramic coatings are "hard" or "dangerous" to use. We cracked the code and designed a ceramic coating that is exceptionally easy and forgiving to apply while providing professional-level results. Now any DIYer, first-timer, or professional alike can quickly and efficiently apply a ceramic coating in a wide range of conditions.
How did we accomplish this? It wasn't an easy task as traditionally, there is a trade-off between a product's performance and its usability. Many ceramic coatings provide excellent performance but are stubborn, difficult, or just downright frustrating to use. If you miss a spot during the application, some even require sanding to remove them. With EZPZ, all of these concerns are a thing of the past. We've engineered an entirely new Polymersilazane (The PZ in EZ-PZ) molecule that combines robust ceramic protection with flexible co-polymers. The end result of this breakthrough means a longer work time (Flash Time), allowing you to apply the coating across larger areas or even in higher temp or humidity environments. In addition, this flexible polymer chain means more flexibility and reduced risk of damaging high spots while providing an extremely slick, glossy, and durable hydrophobic coating. Furthermore, EZPZ is engineered for extreme water repellency, making it pair incredibly well as a topping layer to Graphene Matrix Coating V2, Max, or PRO.
How do you use EZPZ? EZPZ works great as a standalone ceramic coating with 2-3 years of durability per application or for additional hydrophobic performance on top of our Graphene Matrix V2, MAX, or Professional series coatings.
Incredible Hydrophobic properties are an important attribute of any ceramic coating, especially when used as a top coating. Due to our unique proprietary Co-Polymers, EZPZ offers some of the most incredible hydrophobic and water beading available on the market.
Ceramic Coating Application Instructions:
How to Prep for Application:
Clean any loose dust, dirt, and contaminants from the surface.
Clay bar any rough embedded contaminants from the surface to ensure no impurities interfere with the coating's properties.
Polish/Compound to remove any paint defects in the form of scratches, swirl marks, and oxidation. Ceramic Matrix is a semi-permanent coating so once applied any defects will remain sealed underneath.
Deep clean any polish oils or residues from the surface that could inhibit the bonding process using

 

Ethos Detox.
Remove any residual water that can be hiding underneath panel gaps, headlights, or taillights which could drip out and affect the coatings curing process.
Installation Notes:
Temperature and humidity can play a big factor in "flash" time (Time between application and when the coating is ready to be wiped off. In higher temperatures flash time will be expedited so first, test using a small section to determine workability before moving onto the rest of the vehicle.
EZPZ can be applied to any painted, plastic or glass surface (including windshield) and on top of any Ceramic or Graphene based coating.
When applying as a top coating, wait approx. 1 hour between applications.
How To Apply:
Make sure the surface has been completely cleaned and decontaminated with Ethos Detox. The cleaner the surface, the better the bond!
Shake bottle well.
Apply a few drops of EZPZ onto your applicator until evenly covered.
Starting with horizontal / top surfaces first, applying in straight lines slightly overlapping from one line to the next. Work in small areas approximately 3'x3' or the size of a door or half a hood at a time. Temperature and humidity will determine coverage areas allowable between application and removal.
Applicators should glide smoothly on the surface while laying down an even layer of coating. If the applicator starts to drag or the application becomes inconsistent, apply additional drops to the applicator.
Immediately after application, you will notice a "Rainbow Effect" (More prevalent on dark colors) while the applied coating bonds to the surface. Allow the coating to set for roughly 5 min after application or until the "Rainbowing" begins to fade. (Do Note: Temperature and humidity will expedite the flash time. Test a small area first before continuing onto the rest of the vehicle)
Using premium microfiber towels (Preferably our Coating Removal Towels), thoroughly wipe down the section to remove the Ceramic Coating residue. Your first wipe should remove about 80% of the residue, and your second wipe should easily remove the remainder. Use small, circular motions and little to no pressure during removal. The coating should still feel wet and slick during wipe-off and not hard or tacky. If the coating is tacky or rough during wipe-off, you waited too long before leveling.
IMPORTANT: Be sure to check adjacent panels to make sure you haven't "pushed" excess coating to other areas. (We recommend using a flashlight or smartphone light for inspection to make sure every bit of residue is gone. If you fail to remove all of the residue during the flash time, it will become a dark spot once it cures and can require polishing or compounding to remove) So be thorough and continue to check your work before moving on to the next step.
Repeat these steps as you move along the rest of your vehicle. Coating the paint, plastics, trim, and glass surfaces in the same manner.
If you desire to layer the coating for additional performance wait approximately 1 hour between applications.
 Let the coating fully dry/cure for 24 hours before allowing it to get wet. The longer it stays dry the better, as it continues to cure (you CAN drive the car during this time).
 Wash and maintain the coating as outlined in our maintenance protocols. ethoscarcare.com/coating-maintenance
Yes, with EZPZ it has never been easier to ceramic coat your car! We formulated our coating to be easy and hassle free to install. Allowing you to apply professional level protection from the comfort of your garage or driveway.
A ceramic coating is applied in a very similar way to a car wax. The main diference between the two is in the prep work.
Since ceramic coatings leave behind a durable and long lasting layer of protection, its important that you apply the coating to a fully prepped finish.
This means washing, claying and doing a light polish (If necessary), will yield you the best results.
The best ceramic coating for your car is one that you feel comfortable and confident in applying.
Many products out there claim they're as hard as nails, but simply all you need is a product that works as it's claimed and is easy to use. That is where EZPZ comes in!
One of the best parts of a ceramic coating for you car is in how easy it makes cleaning and maintenance.
Due to the hydrophobic water beading effects, dust and dirt removes easily from the surface.
It is best to use our Ceramic Shampoo and other dedicated coating maitenance products to ensure an even more enjoyable car cleaning process.
Our Defy works incredibly well as a waterless car wash for light cleanings as well!