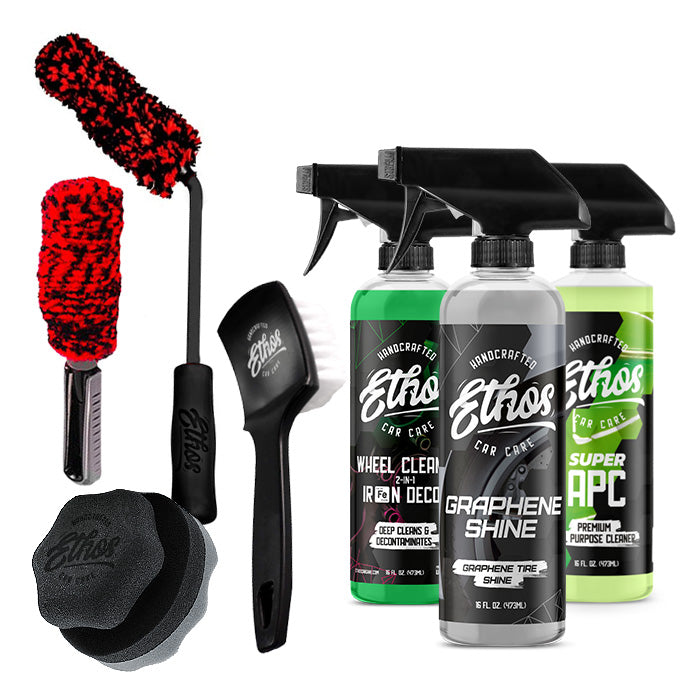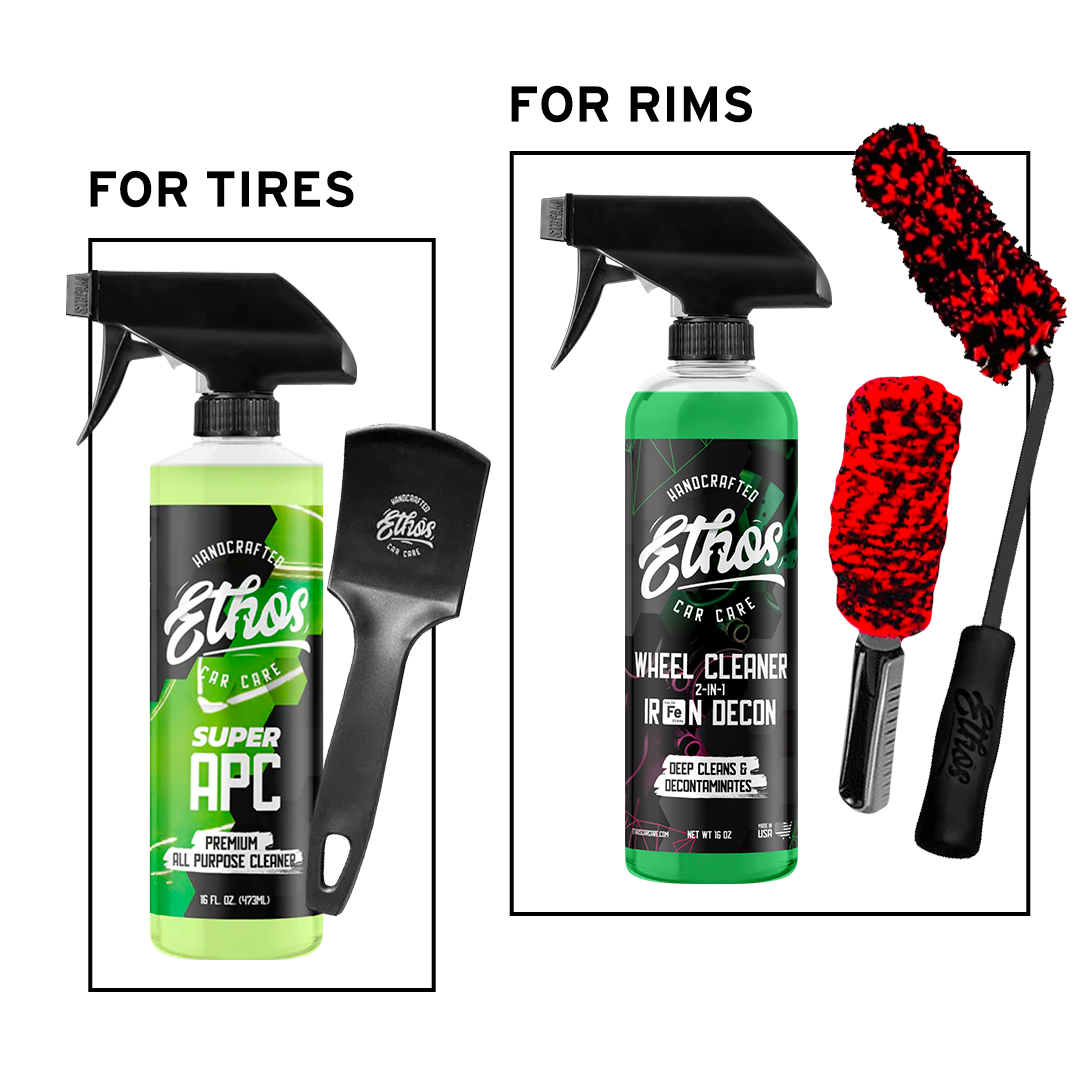 Wheel Cleaning Kit
Selection:
Wheel Cleaning Kit With Brushes
The perfect kit to clean your wheels & tires! Featuring our Wheel Cleaner and Super APC Cleaner.
FOR YOUR WHEELS: Wheel Cleaner - Iron Decon

Simply spray on and watch the product melt away brake dust! Ethos Wheel Cleaner is designed to provide industry best cleaning power, while being safe and easy to use on any wheel finish!
pH balanced, non-acid cleaners safe for all wheel finishes
Changes color while attacking brake dust
Activated gel formula clings to wheel surfaces
Pleasant cherry scented formula
We designed this gel formula with powerful cleaners, surfactants, and degreasers to attack brake dust without the need for caustic acids. We subtly scented our formula with Bing Cherries to make your cleaning experience enjoyable and less pungent than other formulas out there. Simply spray on and watch the product melt away brake dust!
FOR YOUR TIRES: SUPER APC
Ethos Super APC Cleaner isn't your average cleaner. Blended with Pure citrus based d-limonene, Ethos APC tackles even the toughest jobs without breaking a sweat.
This professional strength cleaner contains no cheap petroleum-based solvents or cleaners making it safe to use on any surface! Use on wheels, tires, wheel wells, engines, exhaust tips and much more.
Safe for all surfaces
Florida Oranges Citrus based d-limonene for SAFE deep cleaning abilities
Highly concentrated formula
100% Biodegradable & Safe For Environment
Wheel Cleaner Instructions:
Spray Ethos Wheel Cleaner liberally on a COOL, dry wheel(do not spray on a hot/warm wheels or brakes). Let the product dwell on the surface for 2-5 minutes or until it changes color completely. Use our Ultra Soft Wheel Cleaning Brush or wash mitt to clean the surfaces of the wheel. Rinse the wheel clean and enjoy the results!
Caution: Use only as directed. Keep out of reach of children. Harmful or fatal if swallowed. In case of ingestion, do not induce vomiting. Seek medical attention immediately.
Super APC Instructions:
Spray product directly onto the soiled area, brush or microfiber towel.
Lightly agitate product and rinse for a grime-free finish.
*Do not allow to dry on the surface, not recommended for use on hot vehicle surfaces.