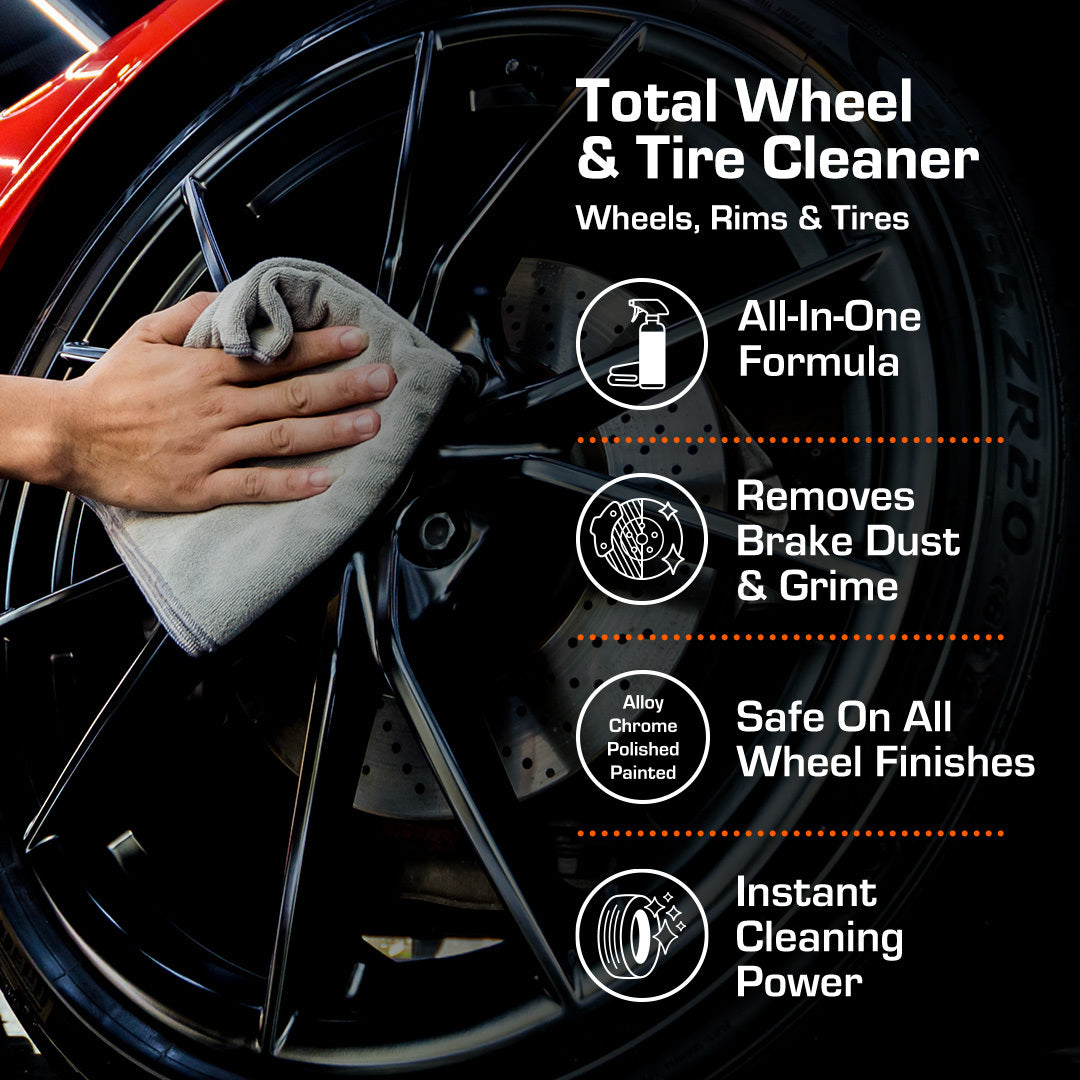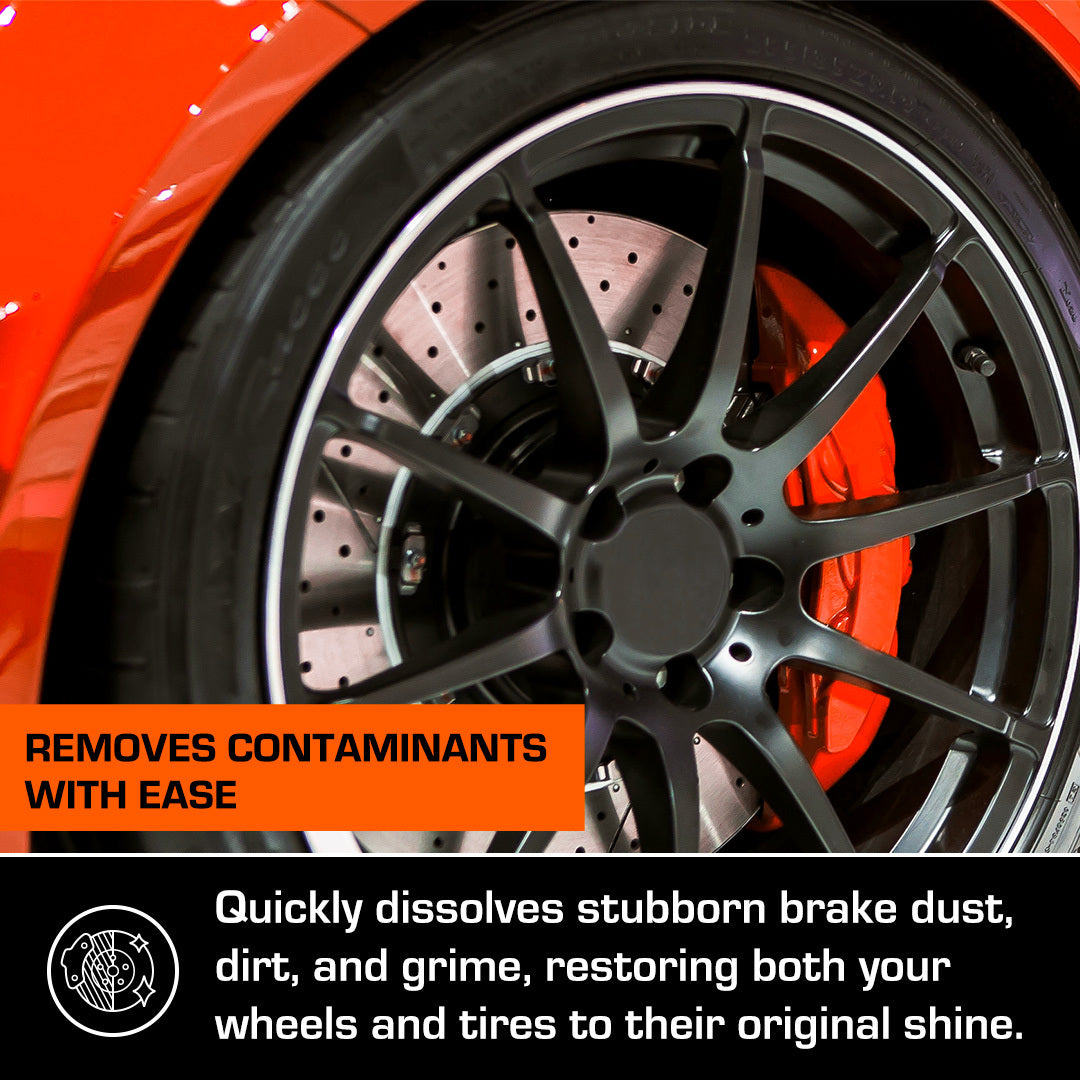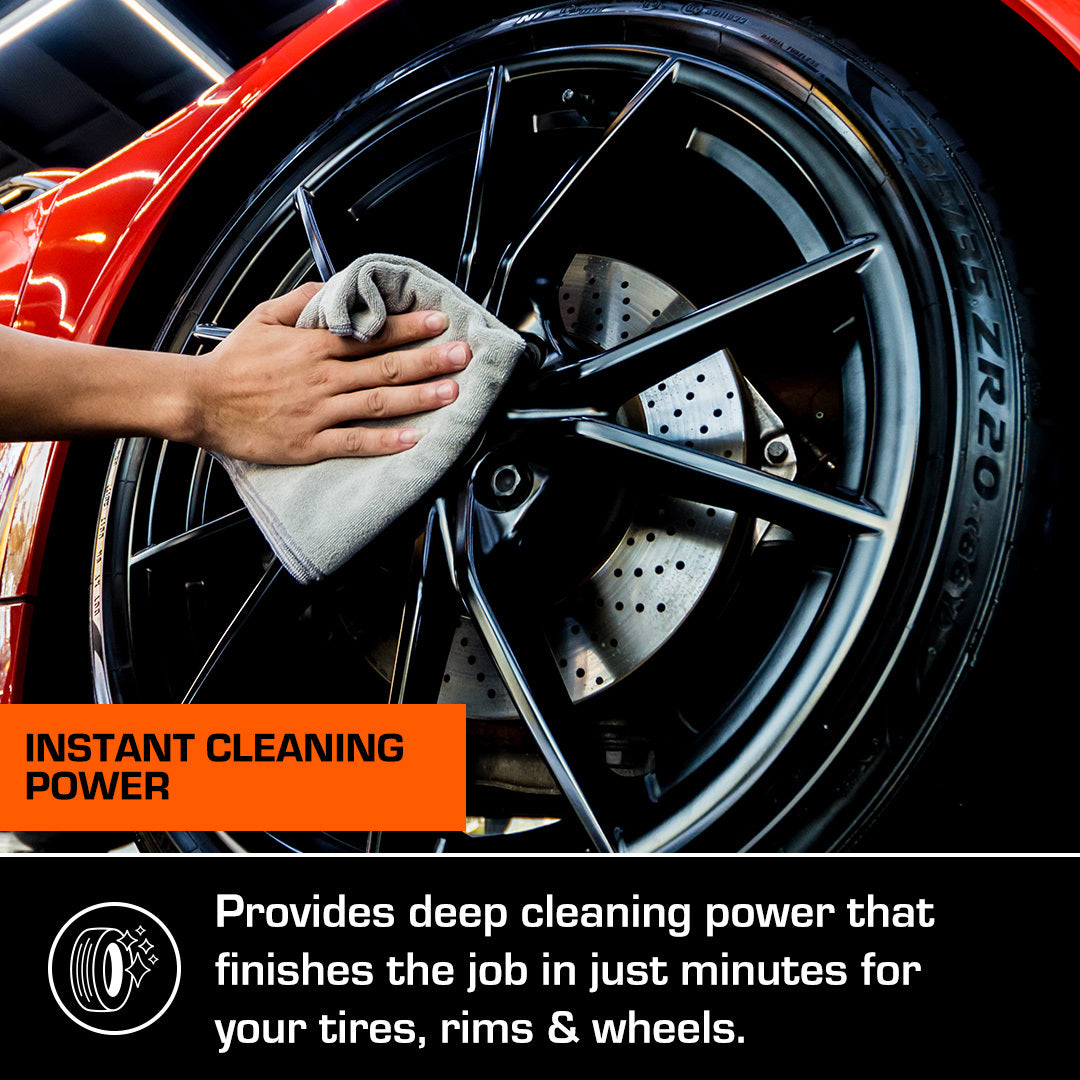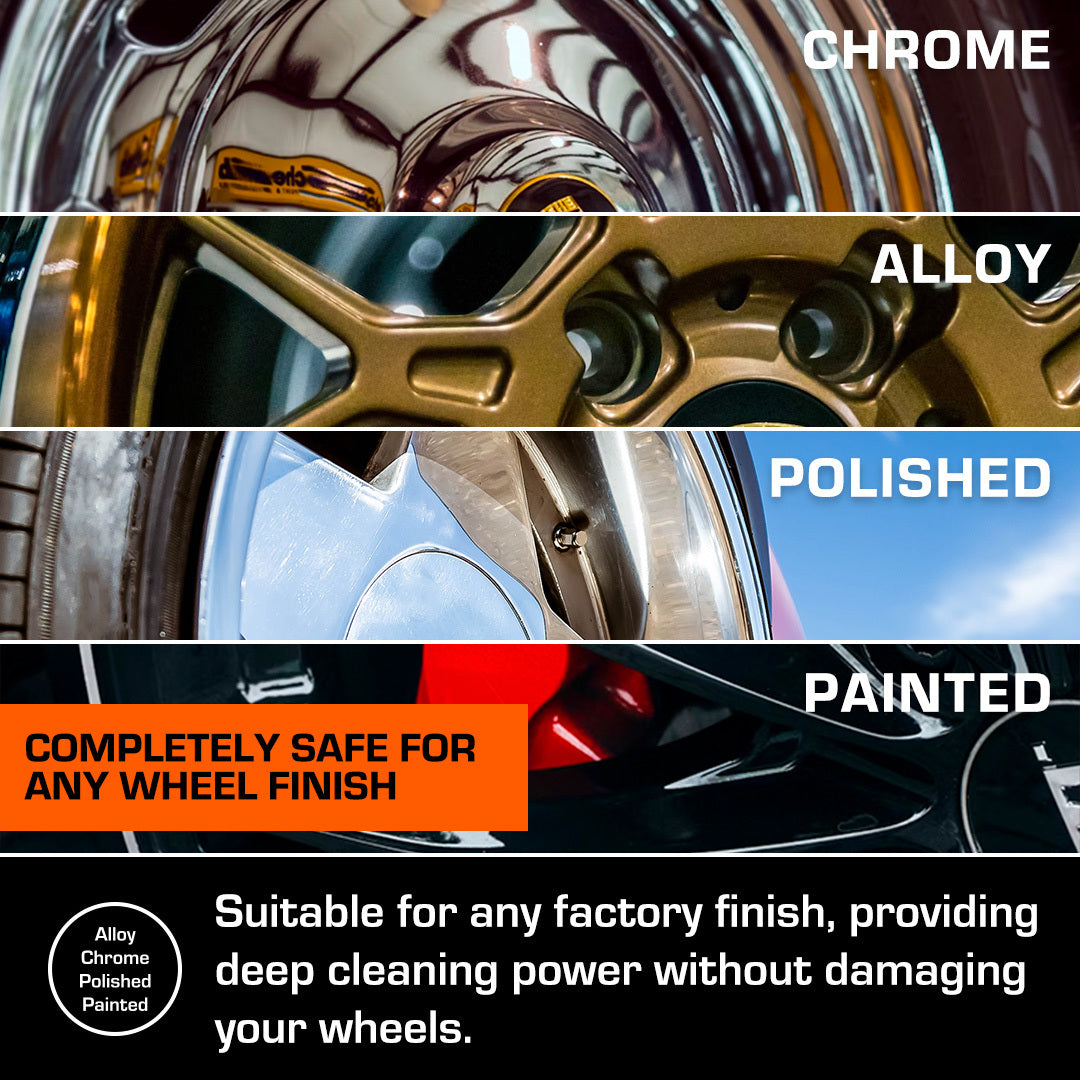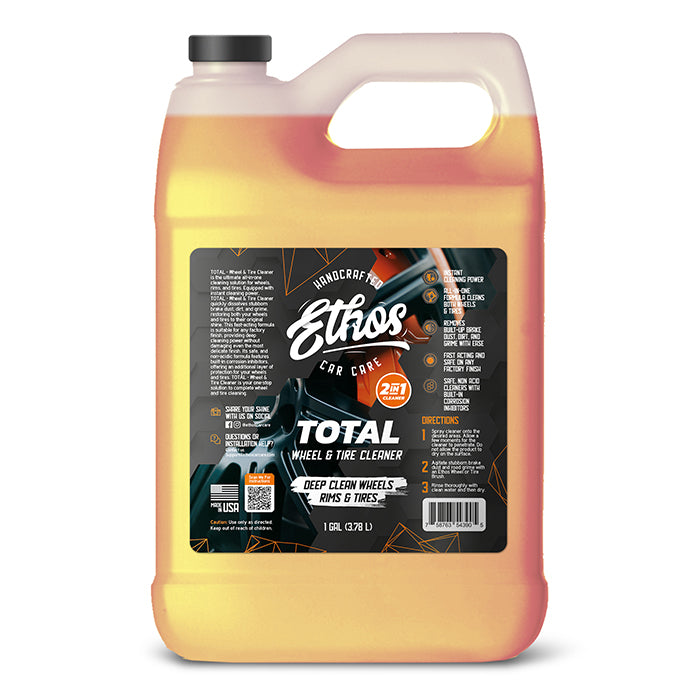 TOTAL Wheel & Tire Cleaner
All in One Wheel & Tire Cleaner
Removes Brake Dust & Stubborn Grime
Safe on ALL Wheel Finishes
Instant Cleaning Power
Selection:
1 - 16oz Bottle
In Stock - Ships Same Day
Professional All-In-One Wheel & Tire Cleaner
TOTAL - Wheel & Tire Cleaner is the ultimate all-in-one cleaning solution for wheels, rims, and tires. Equipped with instant cleaning power,  TOTAL - Wheel & Tire Cleaner quickly dissolves stubborn brake dust, dirt, and grime, restoring both your wheels and tires to their original shine. This fast-acting formula is suitable for any factory finish, providing deep cleaning power without damaging even the most delicate finish. Its safe, and non-acidic formula features built-in corrosion inhibitors which offer an additional layer of protection for your wheels and tires. TOTAL - Wheel & Tire Cleaner is your one-stop solution for cleaning wheels and tires.
What makes this product great?
All-in-One Formula: Unlike many products that target either the wheel or the tire, TOTAL offers an all-in-one solution, making it highly convenient and affordable.

Versatility: It's safe for any factory finish, ensuring that every vehicle owner, regardless of their wheel type, can use it with confidence.

Deep Cleaning Power: TOTAL - Wheel & Tire Cleaner is known for its ability to rapidly dissolve stubborn brake dust, dirt, and grime. This ensures wheels and tires not only look great but are free from contaminants that can degrade their finish over time.

Non-Acidic & Safe: With many cleaners relying on strong acids to break down grime, TOTAL's non-acidic formula ensures wheels are not only cleaned but also protected from potential damage.

Built-in Corrosion Inhibitors: Formulated with advanced corrosion inhibitors that help prevent oxidation, ensuring a longer lifespan for wheels, enhancing their appearance over time.
TOTAL - Wheel & Tire Cleaner is packed with alkaline-concentrated solvents and surfactants, lubricants, and protectants guaranteed to take your wheel cleaning process to the next level! 
Directions:
Shake well. Work in a shaded area and ensure wheel, brake and tire surfaces are cool to the touch. Always follow your vehicle manufacturer's recommended care routine. Test an inconspicuous area to ensure desired results.
Spray cleaner onto the desired areas. Allow a few moments for the cleaner to penetrate. Do not allow the product to dry on the surface.
Agitate stubborn brake dust and road grime with an Ethos Wheel or Tire Brush. 
Rinse thoroughly with clean water and then dry.
Yes, it's safe for any factory or aftermarket wheel finish. This includes, painted, clear coated, powder coated, chrome, nickel and aluminum finishes.
Offering instant cleaning power and professional level results, TOTAL Wheel and Tire cleaner is one of the best products on the market designed to tackle even your dirtiest set of wheels.
Yes, Total Wheel & Tire cleaner is specially formulated as an All-in-one cleaner that works on your wheels, rims and tires.
Yes, Total Wheel and Tire cleaner is safe and effective on ceramic coated wheels.
Yes. This product is intended to deeply clean and cleanse rubber and wheel surfaces— With that being said, the existing dressings (both silicone and water-based emulsions) will be removed once agitated with a Tire Brush.
No, this product's active ingredients are higher pH and non-acidic. The active ingredient in Wheel Cleaner, Sodium Thioglycolate, activates with ferrous metals and turns brake dust purple.