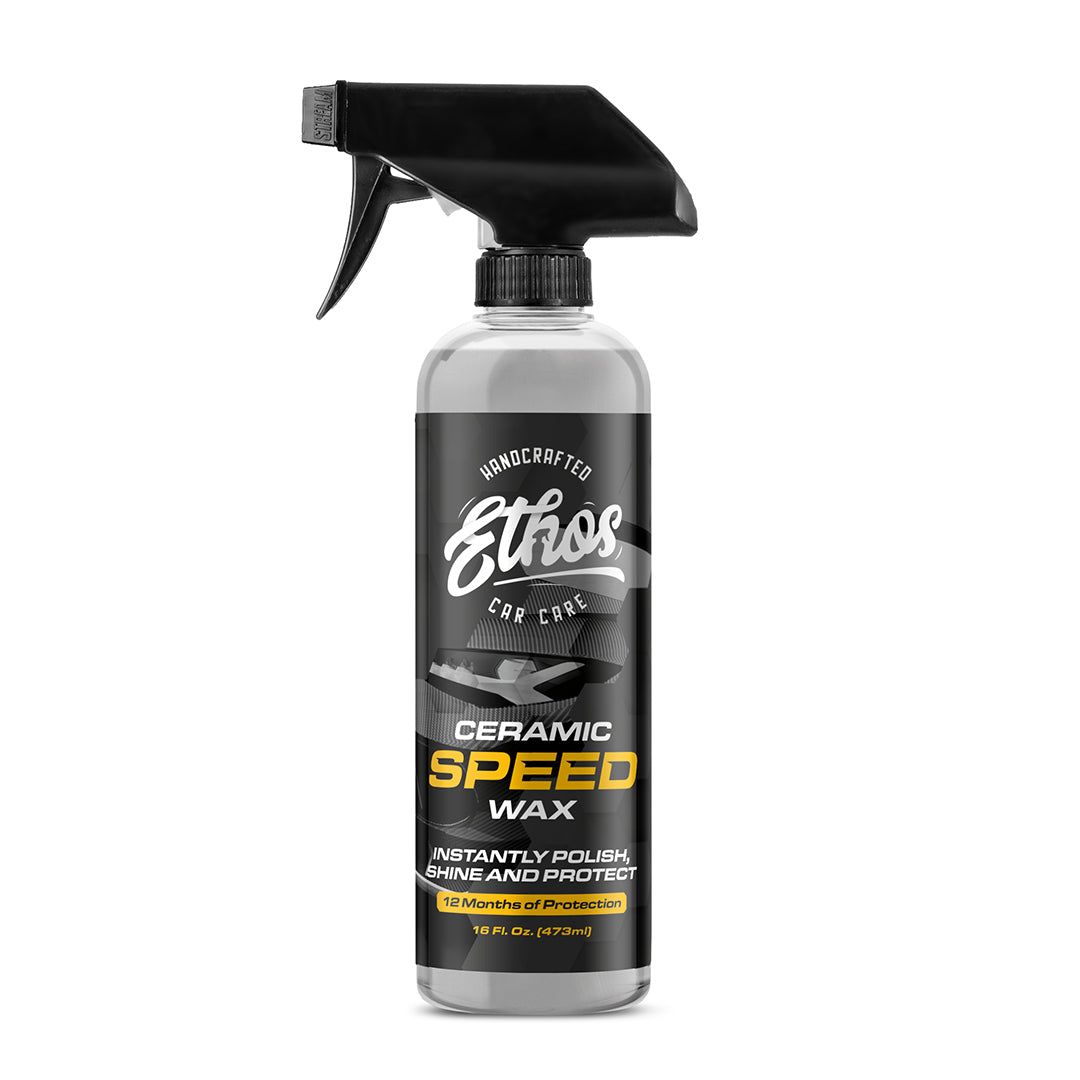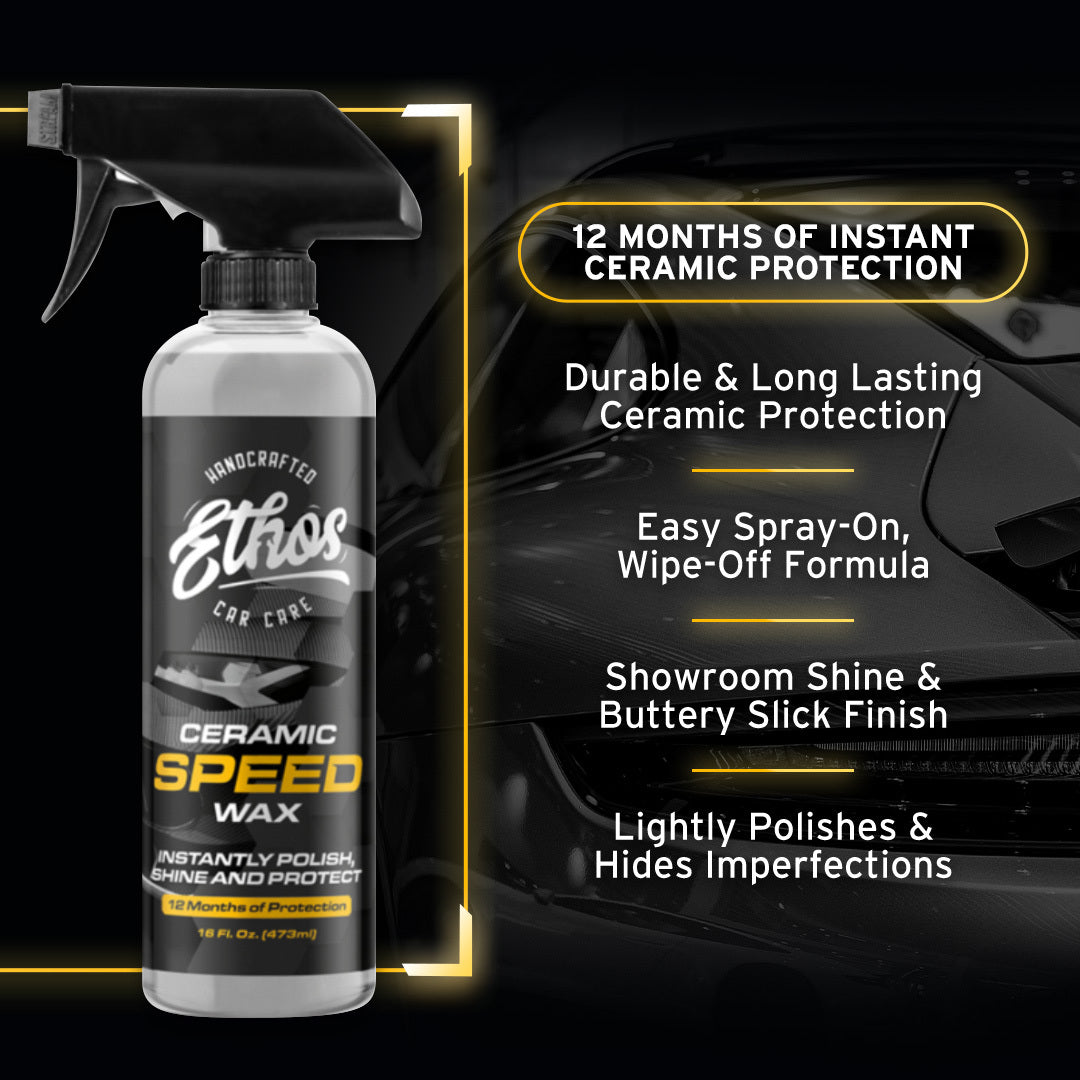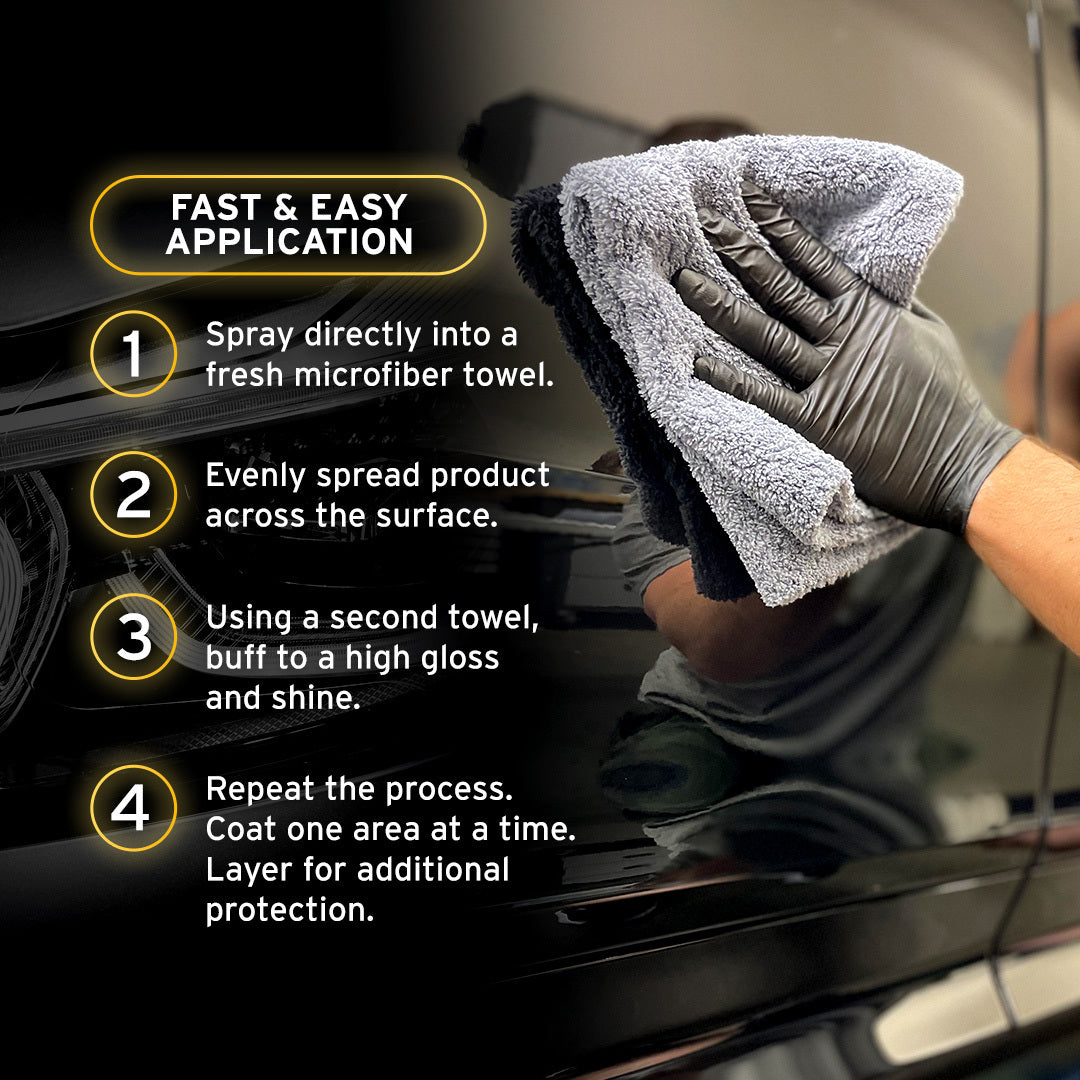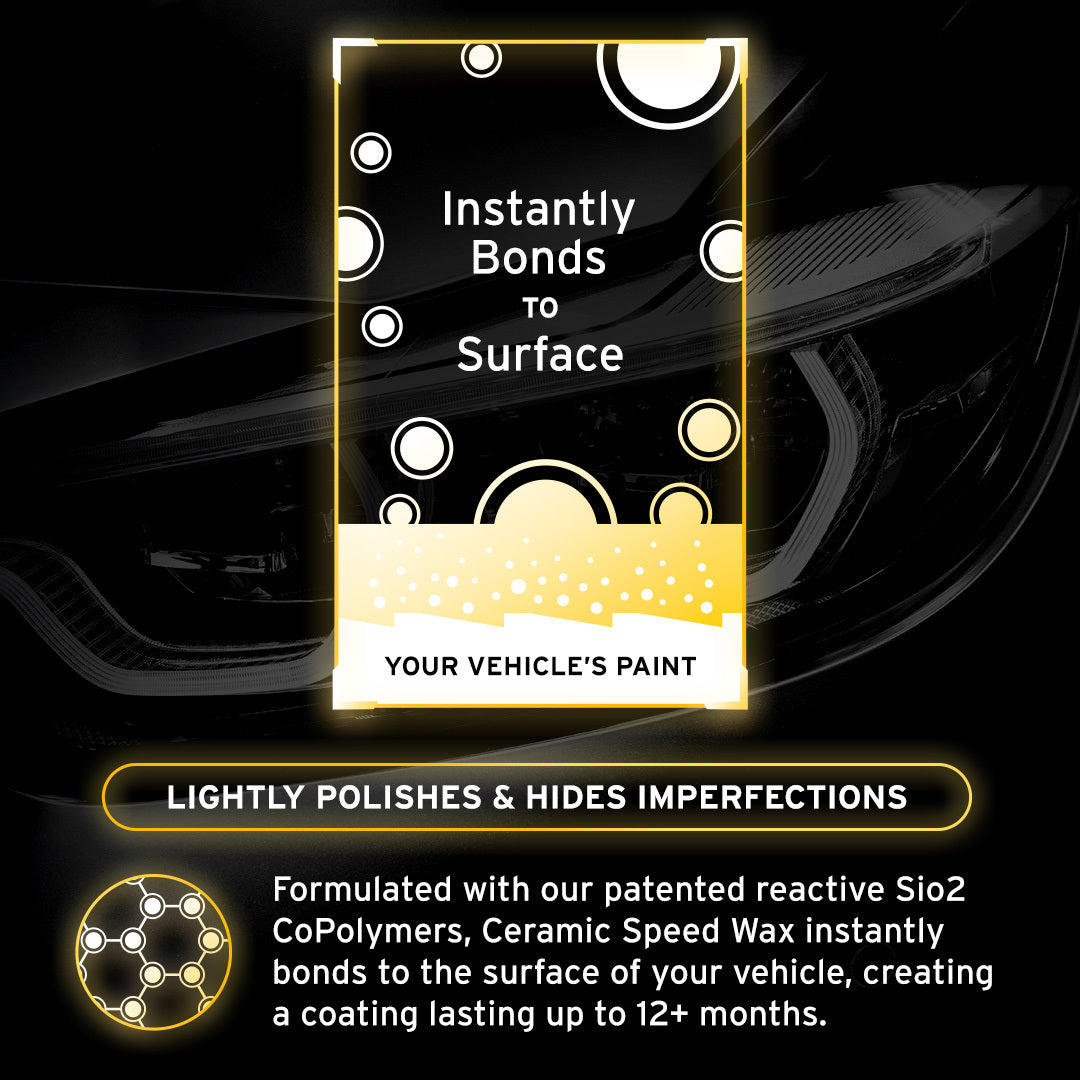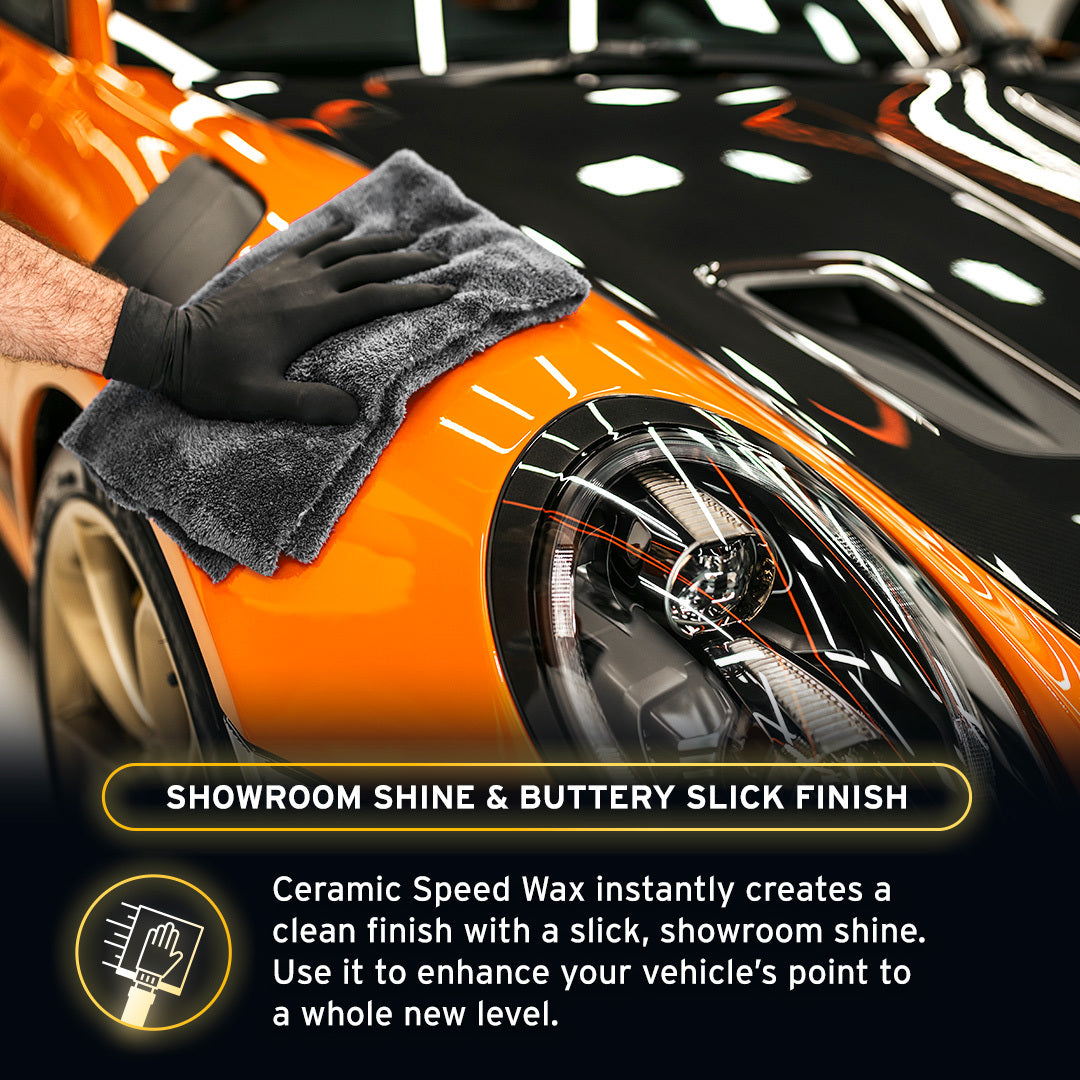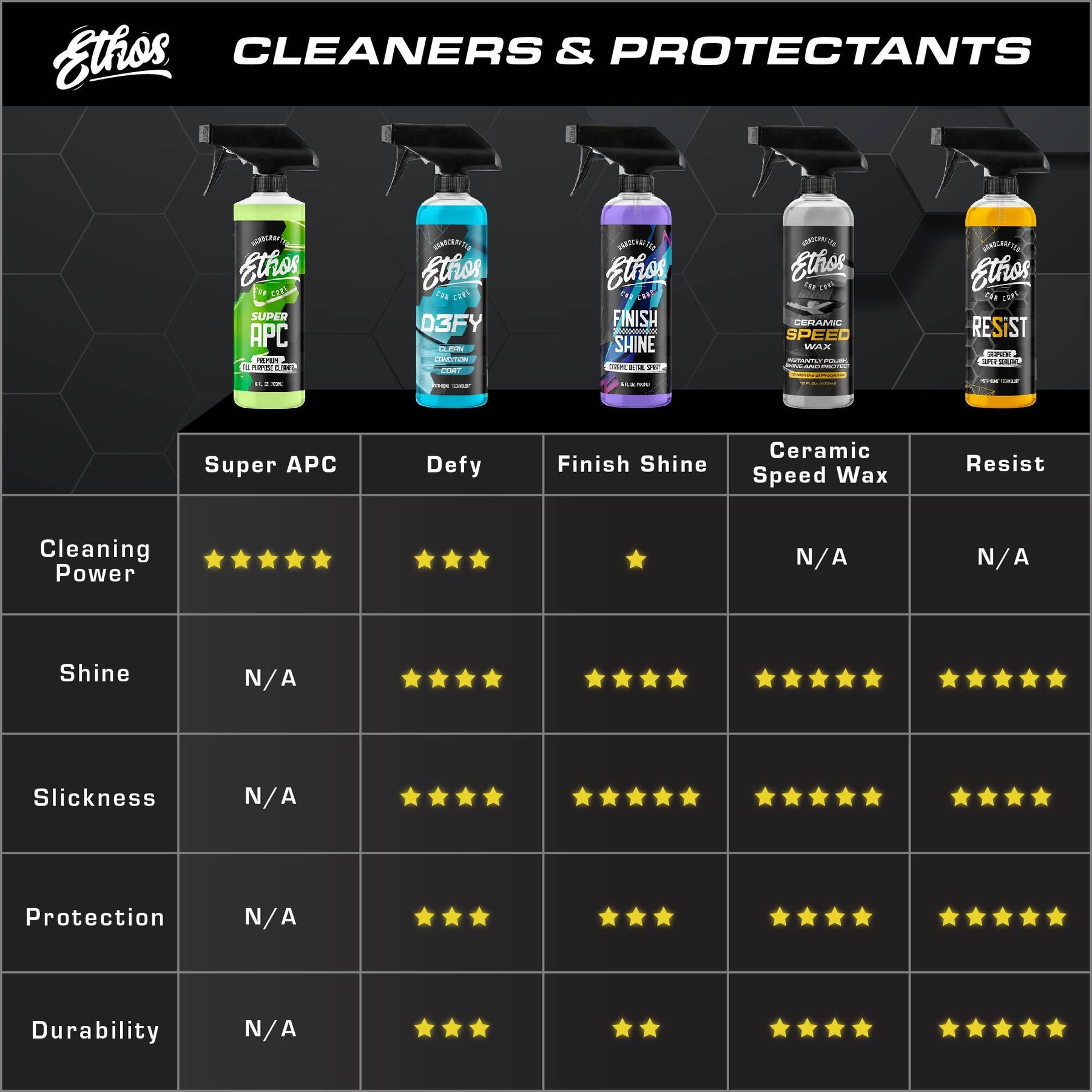 Ceramic Speed Wax - Spray on Coating
12+ Months of Protection
Easy Spray on Application
High Gloss & Ultra-Slick
Durable ceramic Formula
In Stock - Ships Same Day
New and Improved Spray-On Ceramic Wax!
We revolutionized the industry in 2017 by releasing the first of its kind "Ceramic Wax" to market. Ceramic Wax V1 combined the protective properties of ceramic coatings into an easy-to-apply paste wax that anyone could apply. In late 2019 our V2 further improved the user's experience and durability. Now, we're happy to release our latest and greatest Ceramic Wax to market featuring our biggest improvements yet!
Ceramic Speed Wax combines the robust protective properties of ceramic coatings into an easy-to-use and versatile spray wax. Speed Wax leaves behind a durable and long-lasting ceramic coating on any vehicle and can even be applied in direct sunlight. Formulated with our patented reactive Sio2 CoPolymers, Ceramic Speed Wax instantly bonds to the surface creating a slick, showroom shine.
What can you expect with Ceramic Speed Wax?
Durable and Long Lasting Ceramic Protection
Easy Spray on, Wipe Off Formula
Showroom Shine and Buttery Slick Finish
Lightly Polishes and Hides Imperfections
How To Apply
Spray directly into a fresh microfiber towel or onto the surface, a little goes a long way!
With a high-quality & clean microfiber towel evenly spread the product across the surface.
Using a second fresh microfiber towel, buff any remaining residue to a high gloss and reflective shine.
Coat one area at a time, move on to the next, and repeat the process. Layer for additional protection.
For best results apply to a clean and decontaminated surface. Works on wet or dry finishes!
Ceramic Coatings come in all shapes and sizes, but what is best for your vehicle? In this video we compare the differences between a ceramic wax and a ceramic coating.
View full breakdown here: https://youtu.be/Yohalyz_sL0
Ceramic Wax is a hybrid car wax coating for your car. It blends together ceramic coating protection into an easy to apply liquid wax. This makes it a great entry level product for DIYers or car enthusiats to apply professional level protection to their vehicle.
Most Ceramic Waxes on the market contain very little if any Ceramic Resins. They don't live up to their claims! Ethos Ceramic Wax is packed with over 14 different types of Resin, including the patented Teflon ® Resin, which due to its non-stick properties is known as the slickest material on earth. In addition, Ethos Ceramic Wax was completely reformulated based upon the feedback we received from our customers that want a product that is easier and more durable than ever before. Not only is this the best car wax you will ever use but it is also the easiest wax you will ever use!
Ceramic Wax is very easy to apply!
How to Apply Ceramic Wax:
-Shake product well. 
-Apply to a clean and decontaminated paint surface.
-Spread a thin, even layer of Ceramic Wax onto the surface with an applicator or polisher.
-Let dry completely. 
-Buff to a shine with clean, plush microfiber towels.