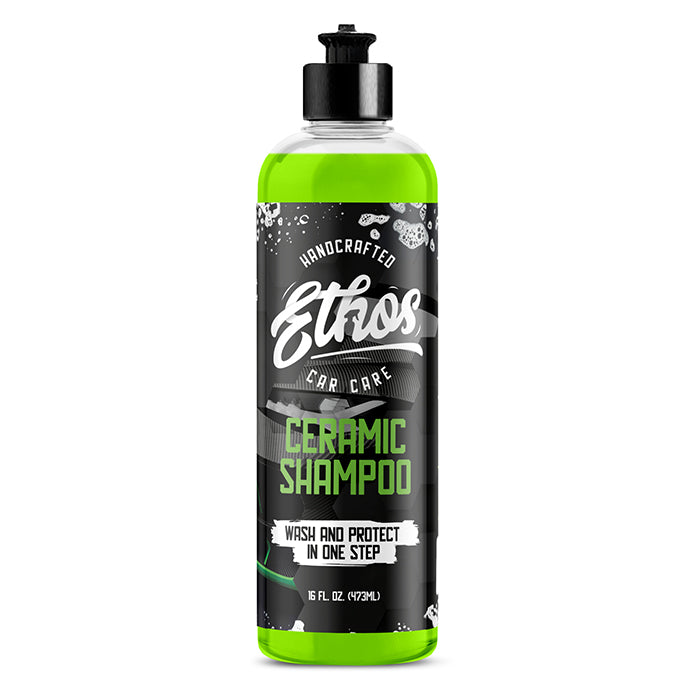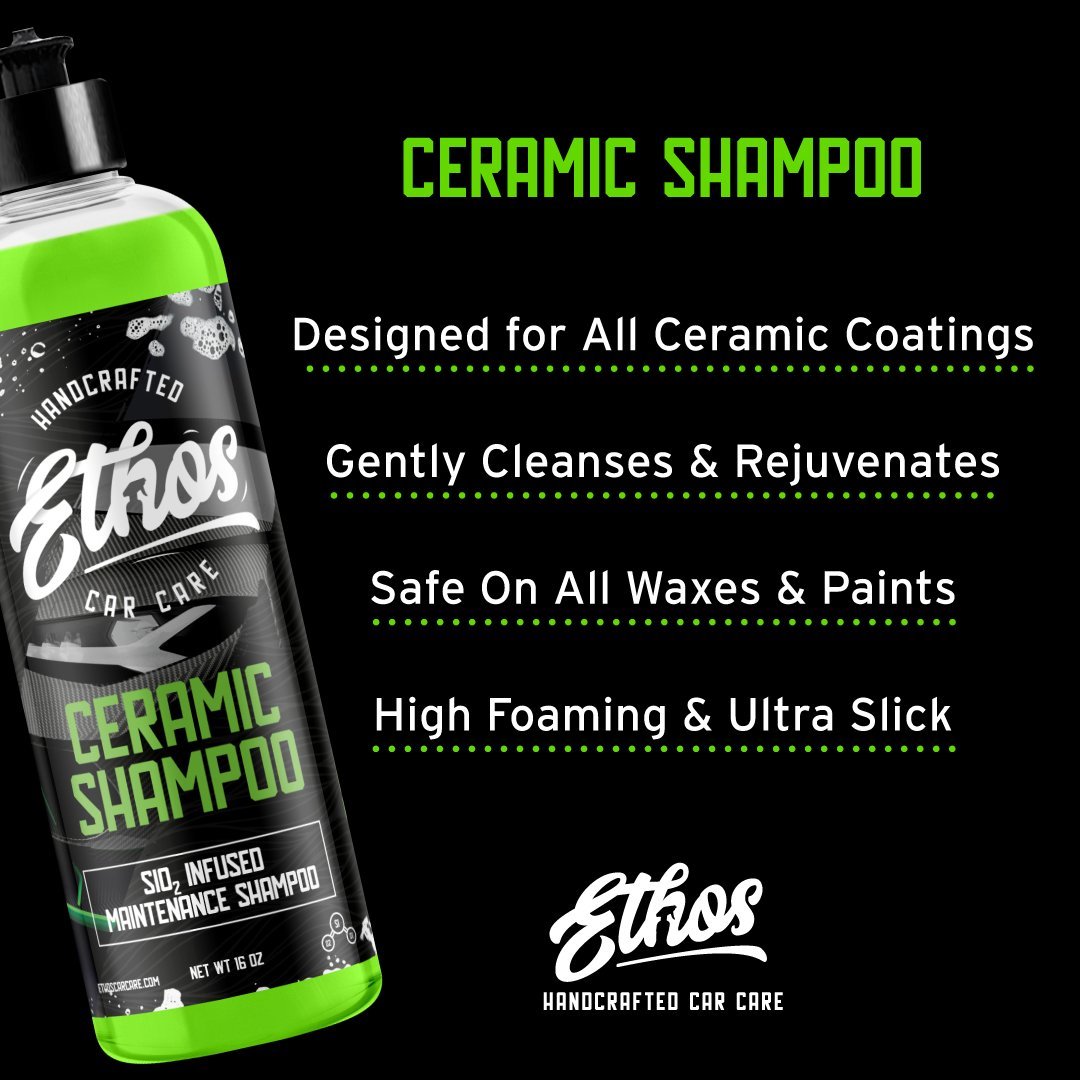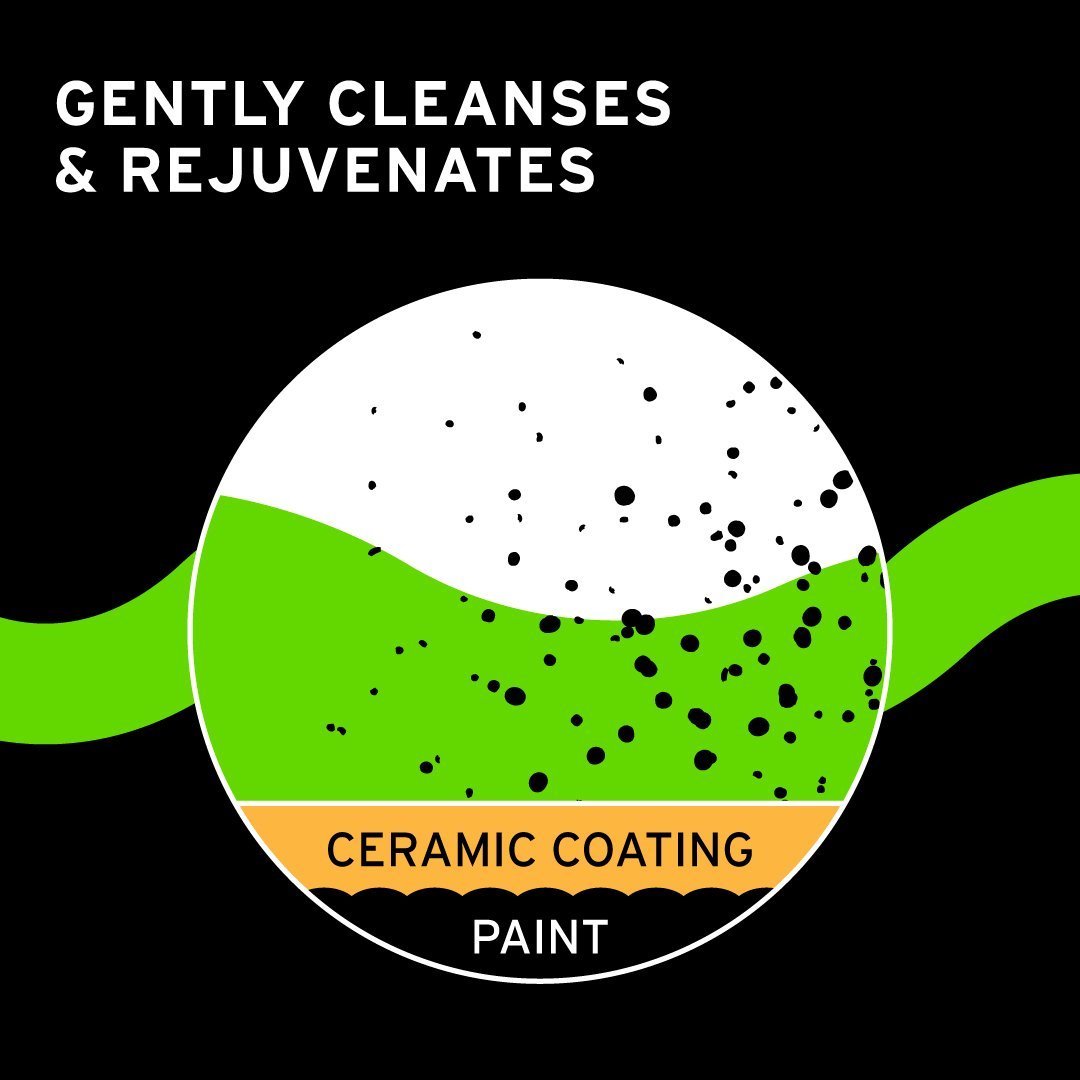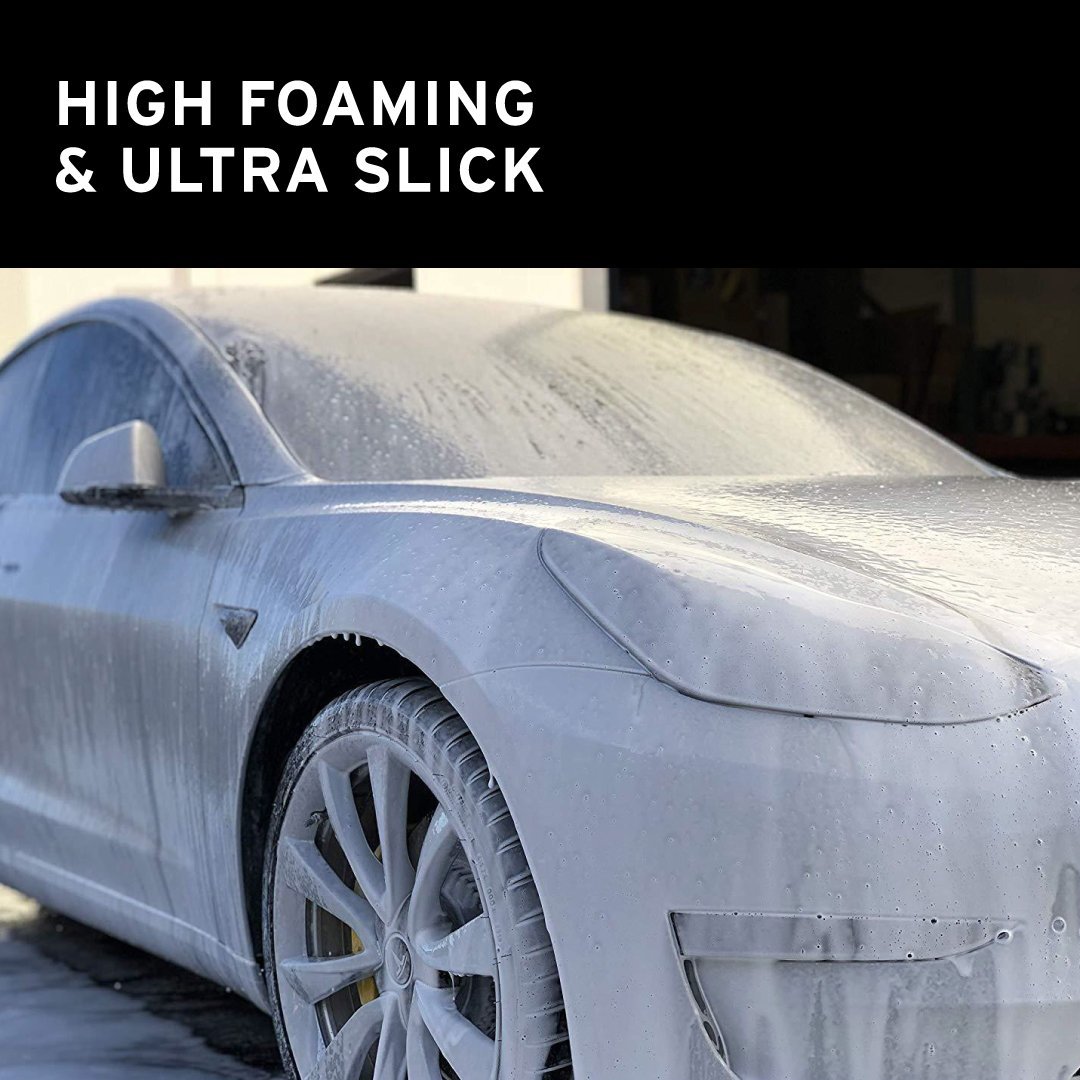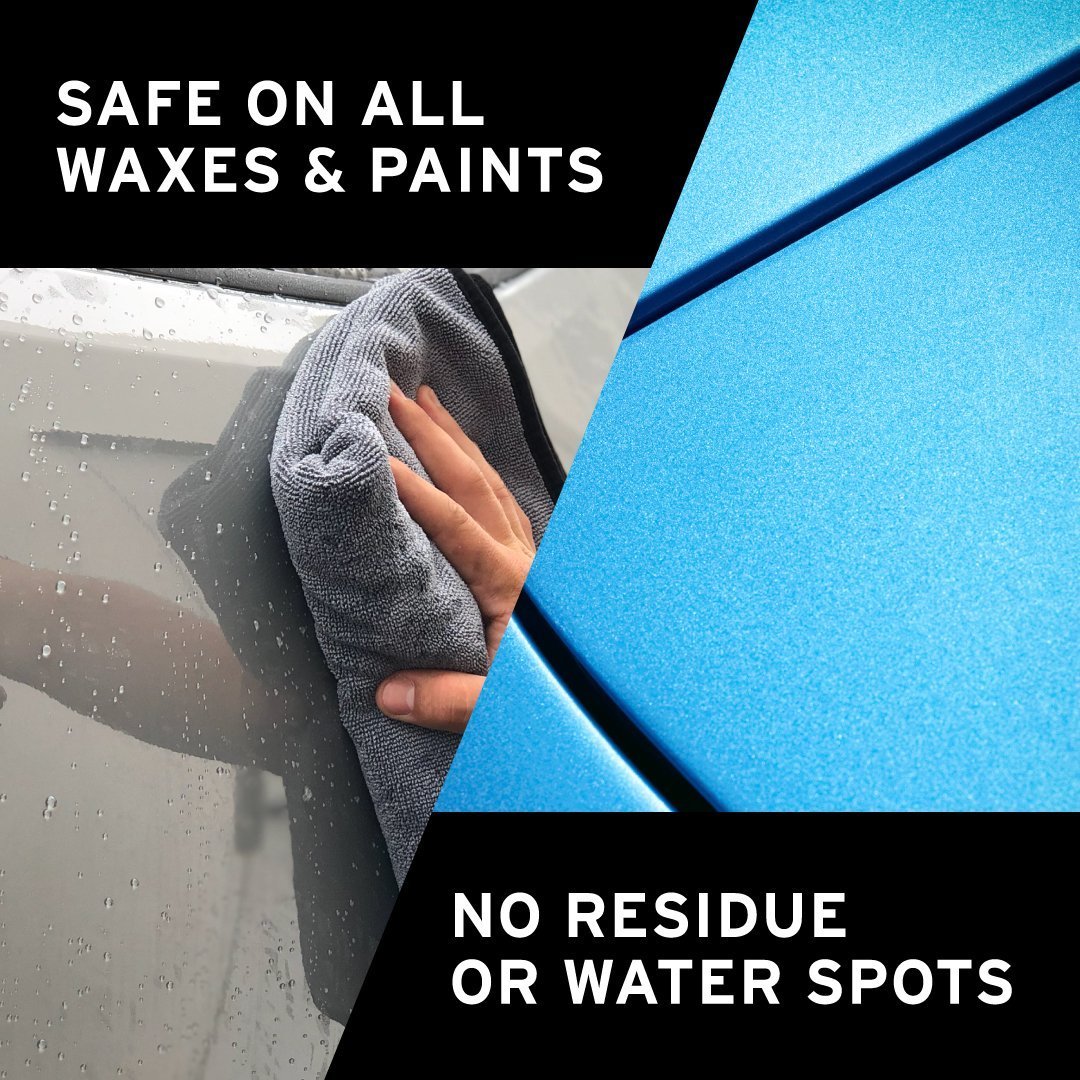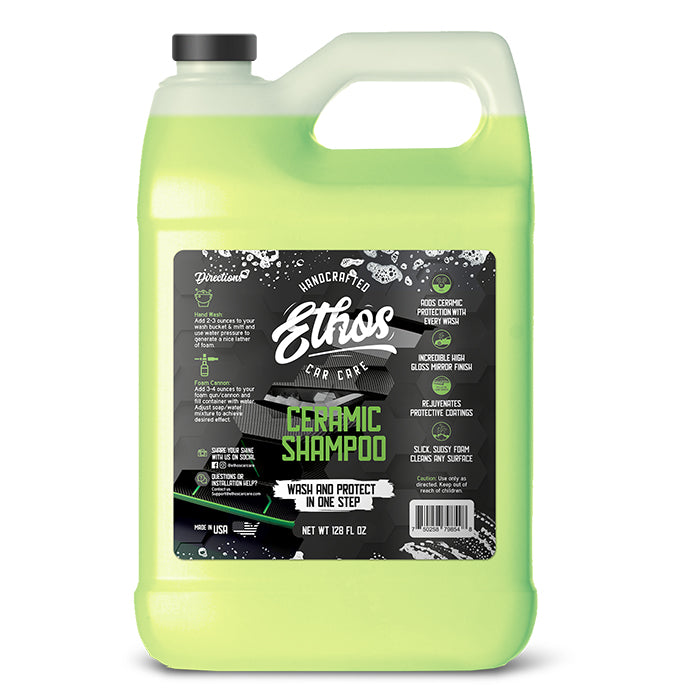 Ceramic Car Shampoo
Ceramic Infused Formula
Gently Cleans and Rejuvenates
Safe on Any Ceramic Coating
High Foaming and Ultra-Slick
Ceramic-infused car maintenance shampoo that protects while it cleans! Ultra-slick and high sudsing formula rejuvenates ceramic coatings and adds protection to untreated finishes. Works great in car wash buckets, foam guns or foam cannons.
Selection:
1 - 16oz Bottle
In Stock - Ships Same Day
Ceramic Protection With Every Wash
Infused with ceramic resins to add protection and hydrophobic beading with each wash.
High Gloss Mirror Finish
Adds dripping wet gloss while effortlessly cleaning away dirt and grime.
Rejuvenates Ceramic Coatings
Safely cleans and conditions any form of ceramic coating, wax or sealant - Fills in low spots and repairs the surface of your coating with Si02.
Slick, Sudsy High Foam Formula
Lubricates to easily clean by lifting contaminants from the surface while reducing the risk of scratching with a layer of foam.
Ceramic Shampoo
Designed with simplicity in mind and packed with the highest grade ceramic resins that add protection seamlessly during your car wash process. This formula also deep cleans and conditions ceramic coatings, while "Leveling" any low spots to provide additional protection, shine, and performance with each use. Ceramic Shampoo forever re-invents the car washing experience.
Ceramic Hydrophobic Car Shampoo Providing Protection with Every Wash

Add protection with every wash and watch as your vehicle becomes fully sealed and protected, shedding water, dirt, and contaminants with ease. Safe for use on any car ceramic coatings to "boost" protection or to add hydrophobic protection easily to any finish.
High Gloss Mirror Finish
Advanced cleaners and lubricants gently remove stubborn grime to prevent scratching and swirl marks that can dull and oxidize your paint. Water-activated emulsification agents cure and harden to create stunning mirror shine reflections that enhance color and prevent fading.
Rejuvenates Ceramic Coatings
Ceramic Car Shampoo bonds and fills imperfections and low spots to rejuvenate Ceramic Coatings with each use. Ph balanced cleansers won't stain, spot, or leave any unsightly residue behind making our car wash soap safe for ceramic coatings. This is the perfect car shampoo for ceramic coatings. Ceramic Resins boost the hydrophobic effect, shine, and protection of any brand of Ceramic Coating, Ceramic Spray, or Ceramic Wax.
Slick, Sudsy Foam
Ultra-concentrated Cucumber Melon formula provides a quicker and more enjoyable cleaning process than ever before. Added slip agents reduce scratching while easily wiping away bugs, dirt, and grime without the elbow grease. Add directly into your car wash bucket or foam gun/cannon to enjoy a luxurious car washing experience.
Hand Wash:
Add 2-3 ounces to your wash bucket and use water pressure to generate a nice lather of foam.

Foam Cannon:
Add 3-4 ounces to your foam gun/cannon and fill with water. Adjust soap/water mixture to achieve the desired effect.

For Best Results:
Wash outside of direct sunlight, in the shade on cool surfaces. Pre-Foam the car using a foam gun or foam cannon to disperse soap onto the surface. Wash from the top surfaces down using a high-quality wash mitt. Due to the high concentrations of ceramic resins, gloss, shine, and water repellency will increase with each use.

Ceramic Shampoo is a pH neutral car washing soap formulated with ceramic ingredients to add shine and protection as you clean your vehicle. It can be used on both coated or uncoated cars to maintain and enhance the vehicles finish.
Car Soap is recommended for routing washing for ceramic coatings. But it is important to use a soap that is designed for ceramic coatings like Ethos Ceramic Shampoo. Some soaps contain harsh chemicals or cheap fillers that can dull or diminish the coating overtime.

The results of Ceramic Shampoo provide shine, protection and hydrophobic effects for several weeks. It is best when used on a consistent basis for routine cleaning or as part of a protection regimen paired with a coating, wax or sealant.

Ethos Ceramic Shampoo was designed specifically for Ceramic Coatings to clean and condition without damaging or interfering with the coatings properties. Infused with ceramic ingredients, Ceramic Shampoo conditions and enhance the protection of any brand of coating with every wash.

You can use Ceramic Shampoo in a bucket, foam gun or foam cannon. For the best washing experience pair with Ethos Wash Pad, Foam Cannon and Ultimate Drying towel. Start from the top surfaces down, wash one section at a time while repeatedly rinsing your wash mitt in a bucket to remove debris. Repeat the steps until the entire vehicle has been cleaned, rinse and dry to enjoy a sparkling clean and protected vehicle.