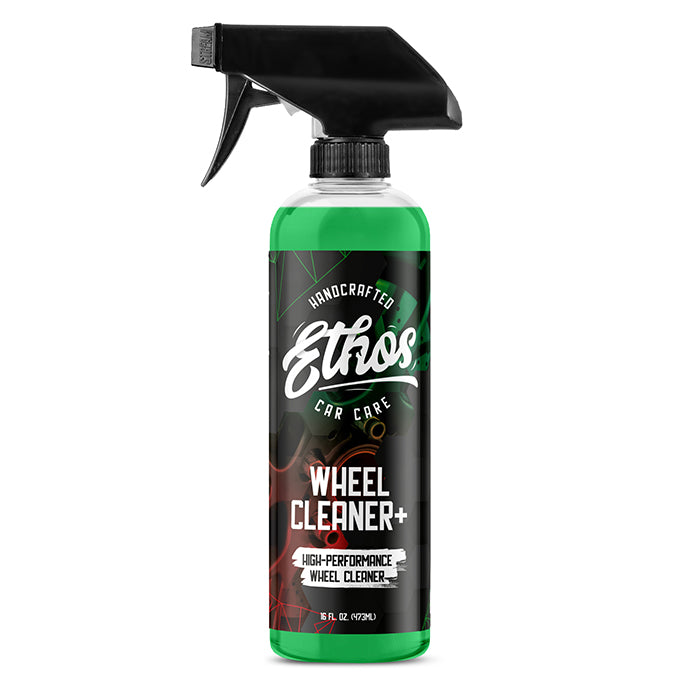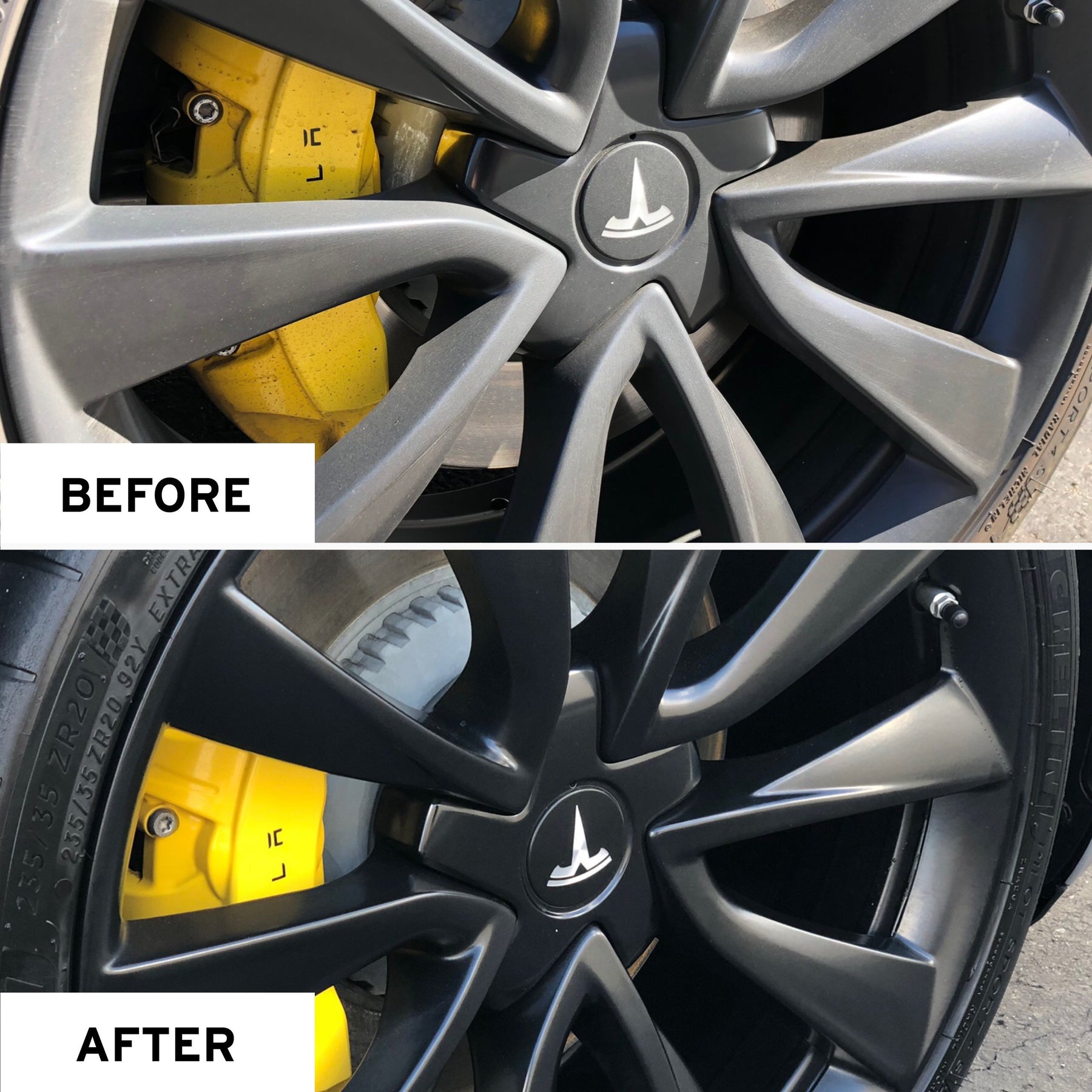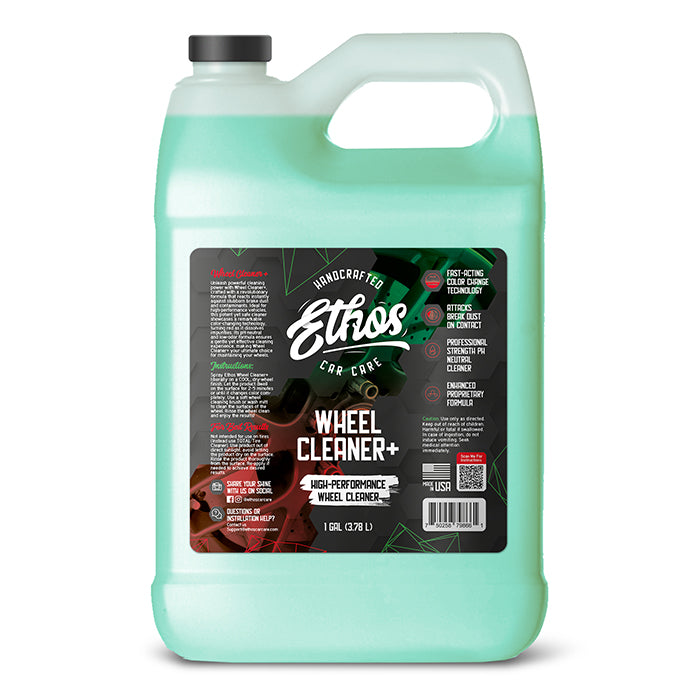 Wheel & Brake Dust Cleaner - Iron Remover
Selection:
1 - 16oz (Intro Pricing)
Iron Dissolving Technology
Color-changing gel formula clings to surfaces and dissolves iron easily, with less scrubbing.
Safe for Paint, Wheels, Glass and More
Activates on-contact, attacking iron quickly and easily without harming the surface.
Professional Strength pH Neutral Formula
A professional strength formula free of harsh chemicals, pH balanced, and economical.
Pleasantscent™ Fruit Scented
Improved scent, reducing the harshness found in traditional iron removers.
2in1: Wheel Cleaner + Car Iron Remover
Simply spray on the wheel cleaner and watch Ethos Wheel Cleaner - Iron Decon clean away iron and brake dust! Our color-changing formula is designed to provide industry-best cleaning power while being safe and easy to use on any wheel finish, paint, or glass. We designed this vertical clinging gel formula with powerful cleaners, surfactants, and degreasers to attack iron build-up and brake dust without the need for caustic acids.
Surface Clinging Iron Dissolver
Brake dust and iron can be some of the toughest contaminants to remove from your wheels and paint. We formulated the best spray-on, rinse-off wheel cleaner that activates on contact and immediately begins dissolving brake dust and iron to make cleaning your wheels much easier! The thick gel formula allows it to stick in place which cleans those hard-to-reach places normally missed by average cleaners that run down and pool at the bottom of your wheels.
Color Changing Formula

Ethos Wheel Cleaner - Iron Decon was formulated with contaminant-activated color-changing technology. You can actually see as our fast-acting formula cleans your wheels and paint as the formula changes from green to purple. Once the activated gel has changed color completely you know its done working, ready for a quick agitation, and time to rinse clean–this means no guessing and no wasted formula!
Safe on Wheels, Paint, and Glass
Ethos Wheel Cleaner - Iron Decon's unique chemistry is safe on wheels:
clear-coated

powder-coated

chrome

alloy

polished

painted
Use it on your painted surfaces or glass for a completely decontaminated and iron-free finish! The other guys' iron removers and wheel cleaners can be harmful to the finish and dissolve more than just contaminants. This car wheel cleaner spray works fast on stubborn contamination while being gentle on your wheels, paint, and glass.
Improved and Pleasant Scent
Traditional iron removers are known to not smell the best. Gone are the days of that harsh, sulfur, chemical scent when using iron removers. For this latest improvement, we found the perfect combination to make the experience of our Wheel Cleaner - Iron Decon an enjoyable one, not one that makes you plug your nose!
A Little Goes A Long Way
Ethos Wheel Cleaner - Iron Decon is stronger than the competition's, so you actually need to use less of it to get your wheels and paint sparkling clean. As well as saving you money, this also directly reduces your environmental impact by creating less chemical runoff from iron and brake dust build-up. Additionally to limit environmental impact and most importantly make your experience safer and more enjoyable we use no caustic acids in our cleaner!
Instructions:
Wheel Cleaner
Spray

 Wheel Cleaner

liberally on a COOL, dry wheel finish.

Let the product dwell on the surface for 2-5 minutes or until it changes color completely.

Use a soft wheel cleaning brush or wash mitt to clean the surfaces of the wheel.

Rinse the wheel clean and enjoy the results!
Paint Decon
Evenly spray Ethos Paint Decon onto a cool dry finish you are looking to decontaminate.

Let the product dwell on the surface for roughly 2-5 minutes or until it changes color completely.

Rinse the surface completely.

Move on to the next step in your detailing process.
For Best Results: Use product out of direct sunlight, avoid letting the product dry on the surface, avoid spraying directly onto delicate finishes or matte plastic trim. Rinse the product thoroughly from the surface.
Safe for use on protective coatings. Re-apply if needed to achieve desired results.